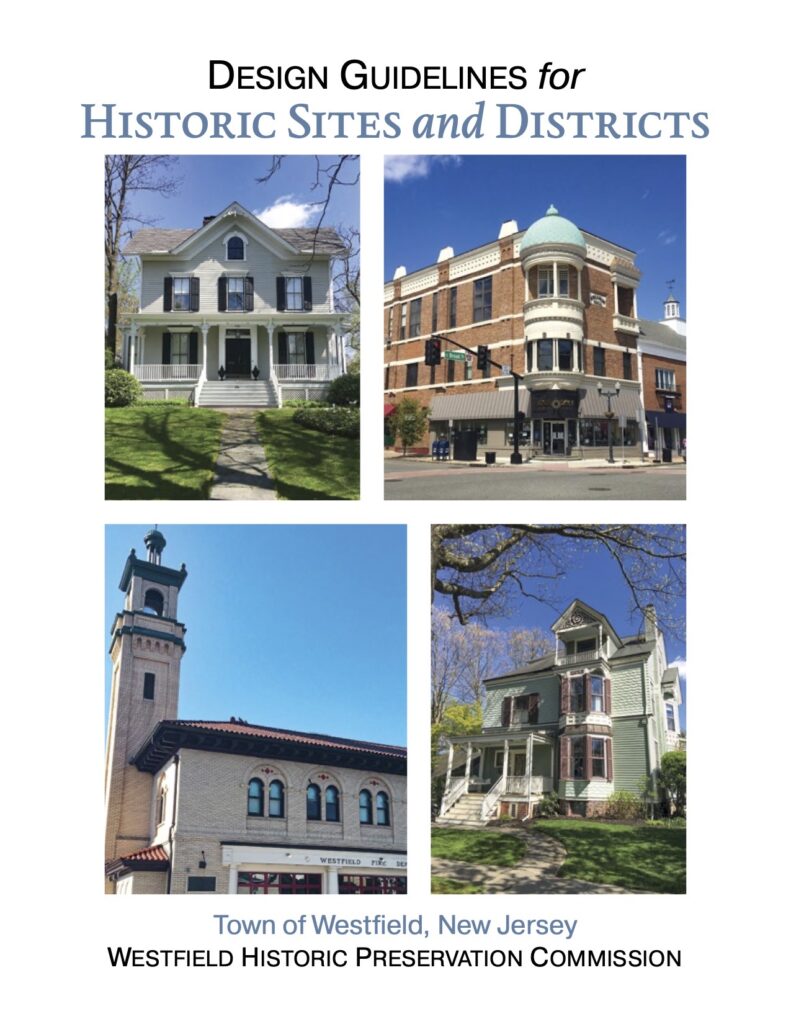 Westfield HPC National Preservation Month
The Westfield Historic Preservation Commission
The Westfield Historic Preservation Commission (HPC) celebrates National Preservation Month with the launch of its newly revised Design Guidelines for Historic Sites and Districts, an illustrated reference manual on the history and architecture of the town's most iconic buildings and neighborhoods. Featuring nearly 200 new and archival photos, the reader-friendly document is ideal for homeowners, architects and contractors looking to build or restore an historically appropriate property and can be accessed on the Commission's website at westfieldnj.gov/historicpreservation.
The Design Guidelines for Historic Sites and Districts, 2020 Revised Edition identifies over a dozen different architectural styles found throughout Westfield, beginning with the earliest Colonial farmhouses and continuing through the Victorian period to post-war capes and ranch houses. Numerous examples demonstrate the distinctive characteristics of each type, including rooflines, windows, siding, and proportions. An illustrated glossary of the U.S. Secretary of Interior's Standards for Rehabilitation summarizes their preservation "best practices" and provides appropriate local examples.
"Everybody's on the Houzz and Pinterest craze," said Greg Ralph, a local architect who uses the guidelines when working with clients. "This document is a great guide for professionals because it shows a little more depth of design. The overall fabric of Westfield is built on this attention to architecture."
The revised edition expands and updates the original booklet commissioned by the HPC in 2002 and now features historic neighborhoods as an important goal of cohesive preservation. While the Kimball Avenue Historic District remains the town's only designated historic district, the new guidelines feature nine additional neighborhoods – ranging from Boulevard to Wychwood – with concise histories and exemplary properties for each.
Both the original and the revised guidelines are the work of historic preservation consultant Gail Hunton, whose parents resided in a Westfield ranch home for nearly 50 years. Hunton said rewriting the guidelines during COVID gave her a unique vantage on the changes over the past two decades. While she says she was taken back by the number of teardowns, especially of the smaller homes and subdivisions, Hunton adds, "I was pleasantly surprised by how well-preserved many of the older homes were."
The Design Guidelines for Historic Sites and Districts, 2020 Revised Edition can be downloaded from the HPC website at westfieldnj.gov/historicpreservation. For additional information on renovating or designating your historic home, please contact the Commission at hpc@westfieldnj.gov.