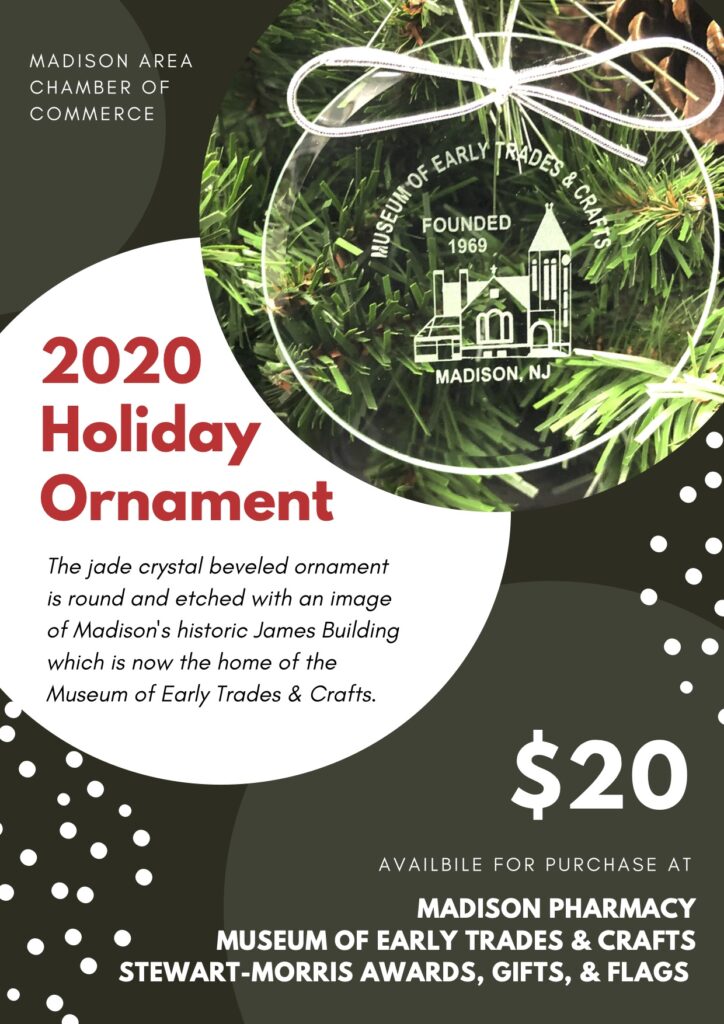 Madison Chamber Holiday Ornament
The Madison Area Chamber of Commerce presents its limited edition ornament in celebration of the holidays in Madison. The ornament is available for $20 and can be purchased at the Madison Pharmacy, 66 Main St., Stewart-Morris Awards, Gifts & Flags, 71 Kings Rd. and The Museum of Early Trades & Crafts, 9 Main St.
The jade crystal beveled ornament is round and etched with an image of Madison's historic James Building which is home to The Museum of Early Trades & Crafts. Each ornament is inscribed with the year 1969 which is the year the museum was founded. Each ornament includes a silver hanging cord that makes the ornament suitable for tree or window display. Also included is a two-piece gift box, which permits purchasers of the ornament to safely ship it to friends and family who won't be in town this holiday season.
"Our holiday ornament is the ideal gift to or from anyone who loves Madison," said John Morris, president of the Chamber and co-owner of Stewart-Morris, Awards, Gifts & Flags. "It's a great gift item for the holidays or for any other special occasion."
Proceeds from the ornament sale will help to fund the Chamber's programs and activities, which are focused on business development in Madison and the promotion of the Chamber's member businesses and organizations. The Chamber is an incorporated 501(c)(6) business league.
For more information about the ornament, bulk purchases or the programs and events of the Chamber, please contact The Madison Area Chamber of Commerce at MadisonChamber@gmail.com or at 973-377-7830.