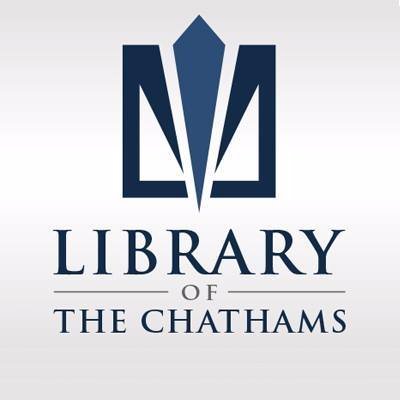 Library of the Chathams October 2021
Mahjong Open Play
Everyone who loves Mahjong is welcome to come and play at the library. Bring friends or come alone and find new partners. The library has reserved one of its meeting rooms for Mahjong Open Play every Wednesday. There are two play sessions each Wednesday: from 1 to 3 pm and from 7 to 9 pm. Remember to bring your 2021 Mahjong card. No need to sign up – just come and enjoy the game!
Portrait Drawing with Peggy Dressel
Learn how to draw a person's face both frontal and profile in this virtual class. Covered will be the dimensions of the head, and how to determine where to place and draw the facial features, eyes, nose, mouth and ears. You will learn how lighting defines the facial bone structure so that you can enhance your portrait with shading and tone. This is a four part course, and all sessions must be attended to participate. There is a limit of 15 participants, and you may sign up online at www.chathamlibrary.org to register. Classes will be held on Fridays October 8, 15, 22 and 29 from 11 am to 12:30 pm. You will be emailed drawing information and reference materials. A supply list will be provided.
There is a fee of $40 to attend all four classes. If you are unable to pay, please send an email toevents@chathamlibrary.org and we will waive the fee.
Drew Art Association Show
The Drew Art Association will hold a members' multi-media show through October. An opening reception, sponsored by The Friends of the Library, will be held on Sunday, October 10 from 2:15 to 4 p.m. The public is invited to attend, and the show may also be viewed during regular library hours through the month.
The Drew Art Association was founded in 1979 under the guidance of Dr. Lee Hall, who was chairperson of the Art Department at Drew University. Approximately, 60 members participate in exhibits at corporate and academic venues with the common desire to create and share their art with the community.
Voting Rights with New York Times Correspondent, Nick Corasaniti
Chatham native, Nick Corasaniti, a New Jersey-based correspondent for The New York Times will speak at the library about voting rights and recent legislation on Tuesday, October 12 at 7 p.m.
Mr. Corasaniti covers politics, policy, people, trains, beaches, and eccentricities that give the Garden State charm. He covered the 2020 presidential campaign of former Vice President Joe Biden and President Donald Trump.
Deer Management in Forests and Backyards
Rutgers Master Gardener, Cheri Wilczek will discuss what it takes to keep deer away from your garden and your plants. The lecture will address what one needs to know about deer, deer management, and what plants (bulbs, annuals, perennials, shrubs, and trees) should be planted to prevent deer from foraging in your gardens and yards. Please join us for a Zoom presentation on Thursday, October 14 at 7 p.m. The speaker requests that you sign up for this presentation, and a Zoom link will be sent to you the day of the event.
Michelangelo and Bernini: The Design and Decoration of the New St. Peter's Basilica, Part I and Part II
Margaret Kuntz, Professor of Art History and Chair of the Art History Department at Drew University, will present two lectures on St. Peter's Basilica. In the first session, she will discuss the inter-relationship of the design and decoration of the new St. Peter's Basilica from its inception under Pope Julius II through its completion under Pope Paul V. Here we will discover why the design was modified and built as a basilica plan rather than the centralized plan designed by Michelangelo and dictated by Pope Paul III Farnese. We will also learn how the design change at the beginning of the 17th century impacted the construction process.
In the second lecture, Professor Kuntz will discuss the decoration of St. Peter's Bascilica. Now at the final completion of construction, we will look at the first decorations for the interior and how they reflected the artistic goals of Pope Urban VII Barberini. In addition, we will discover the role Gian Lorenzo Bernini played as lead architect and artistic director of the interior decorations, the tangible manifestation of Urban's legacy.
Please join us Tuesday, October 19 from 1 to 2 p.m. for Part I, and Tuesday, October 26 from 1 to 2 p.m. for Part II of this lecture series. It is requested that you register with the library to attend. You may sign up online or call the library at 973-635-0603.
There will be a fee of $10 for each lecture to attend. If you are unable to pay the fee, please send an email to events@chathamlibrary.org and the fee will be waived.
College Funding Workshop
A college funding workshop, presented by Jodi Bloom from Cornerstone College Solutions will be held on Thursday, October 21 at 7 p.m.
This workshop is for parents of children of any age to help them figure out how to pay for college without jeopardizing retirement.
Learn how to reduce your out-of-pocket expenses
Learn "ins and outs" of the financial aid system
Avoid common errors that can cause you to overpay for school
Learn how to obtain discounts from colleges even if you don't qualify for "need-based" financial aid
Learn how to develop a comprehensive college plan to meet your family's unique goals and cost requirements
Determine how find the best college match for your children
Registration requested. The workshop will be presented in-person at the library. If you cannot attend, you are welcome to join by Zoom at the link found on the library's website.
Abstract Expressionism and Color Field Painting
Professor Kimberly Rhodes of Drew University will present a course studying the major figures associated with Abstract Impressionism and Color Field painting, two internationally significant postwar American art movements that challenged audiences with dazzling new approaches to painting and solidified New York City's position as the center of the art world. Each session will be devoted to an individual artist (Willem de Kooning, Jackson Pollock, Lee Krasner, Mark Rothko, and Helen Frankenthaler) in order to explore, in depth, their creative, professional, and personal lives. We will also look at the milieu in which these artists were making work to understand and influence New York City itself on the artists and their paintings. Lectures will take place on Wednesdays, October 27, November 3, 10, 17, and December 1 from 11 a.m. to 12:39 p.m. It is requested that you register with the library to attend. You may sign up online or call the library at 973-635-0603.
There will be a fee of $10 for each class. If you are unable to pay the fee, please send an email to events@chathamlibrary.org and the fee will be waived.