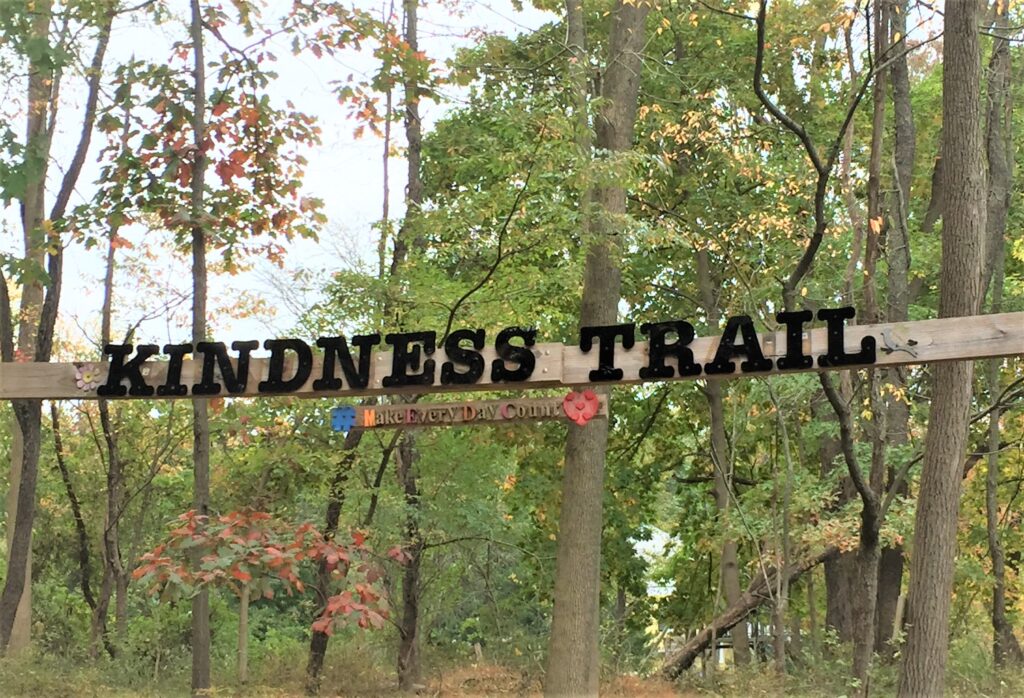 Kindness Begins With You
Submitted by Nancy Scott
Several years ago, Watchung Girl Scout Troop 65114 approached Wilson Memorial Church with a proposal to create a Kindness Trail for their Silver Award Project on the wooded portion of the church property. They imagined a place where people could go to relax and enjoy nature's wonders. Above all, they wanted a place to contemplate choosing and practicing kindness. Wilson embraced the concept with enthusiasm since it parallels the mission of the church.
Donations of wood chips lined the newly cut path which is decorated with inspirational signs and messages. A talking table and benches are strategically placed along the trail, inviting visitors to turn off their phones; communicate with family and friends; or perhaps enjoy the challenge of a friendly game.
Last spring, Elliot Gargano of Watchung Troop 32, enhanced the trail with a sanctuary for small birds for his Eagle Scout Project. He created six birdhouses and several nesting platforms as well as identification signs. (Wilson is a charter organization for Troop 32 and Cub Scout Pack 32).
After the trail was created, Wilson abandoned the "trunk-or-treat" gatherings held for the community each fall in favor of utilizing the Kindness Trail. Every October, the patch is transformed into a magical place by church members; "Fairy Tale Forest", "The Enchanted Forest" and "The Scarecrow Walk" were met with enthusiasm from young and old in the church and in the community.
You may contact the church office at 908-755-5020 or visit wilsonmemorialchurch.org for more information.