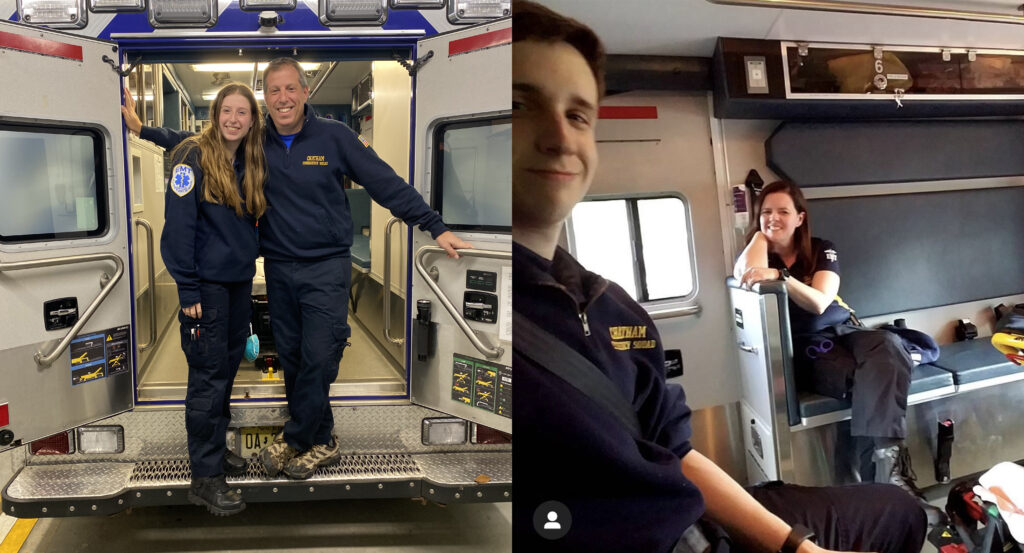 IT'S A FAMILY AFFAIR
Recruiting for the Chatham Emergency Squad happens in a variety of ways. Some members join after hearing about the Squad at their church. Some members join after experiencing the Squad's work firsthand. Some members join after they were unable to assist at an emergency and decided they needed to know more. And some members are recruited by their own family, making service on the Squad truly a family affair. Here are some (but not all) of their stories!
Craig Alperowitz joined the Squad in 2017. He has served on the Board of Trustees as Communications VP and currently as the Equipment LT in addition to his Thursday day crew. His daughter, Molly, a CHS junior, joined the 2021 Cadet Class in June. They received the news of Molly's acceptance to the highly competitive Cadet Program on their shared birthday, making it an extra special celebration.
Ella Maddi, 2013 Cadet Class, recruited her mom, Abigail, who joined the Squad in 2015. Abigail also serves on the Thursday day crew, as the CPR Manager and on the Nominating Committee and has previously served as the Squad's Secretary on the Board of Trustees.
Mikayla Meyler, 2018 Cadet Class, is currently attending Georgetown University and her sister, Sarah, joined the 2021 Cadet Class in June. They never served together, but Sarah's decision to apply was informed by Mikayla's experience. Siblings Geoffand Katie O'Malley (Cadet Classes of 2015 and 2018) served together for two summers. Geoff is attending medical school at Hackensack-Meridian School of Medicine and Katie is a sophomore at Boston College.
Matt Piechnik joined the 2017 Cadet Class and within a year had recruited his mom, Joanne Howden. Matt served on the University of Delaware Emergency Care Unit throughout college and began medical school at Thomas Jefferson University in Philadelphia in July. Joanne is the Wednesday Night Crew Chief, has served on the Board of Trustees as Personnel VP and is currently the Training LT. As Personnel VP, Joanne related her experience when speaking with potential members: "Matt said 'Mom, you will love this!' and he was right!"
Ivan Rozhkov, 2018 Cadet Class, attended the mandatory parent/student meeting with his dad, Yevgeniy; by the end of the night, Ivan was ready to apply to the cadet class and Yevgeniy applied for membership. Yevgeniy said going through EMT school at the same time as his son was "… an interesting experience. It felt like going back to my favorite class in high school with my best friend. I was very proud to see my son in action and have him as a partner."
Robin Hoppe, current VP, Membership said "As popular as family member recruitment can be, we're always interested in speaking with anyone about their interest in joining – even if they don't have a family member on board with us yet. Give us some time though; you may be surprised!"
The all-volunteer Chatham Emergency Squad never charges for its services; most of its annual expenses are paid for by donations from the community. In addition to providing Basic Life Support (BLS) service all day and night, every day and night, CES provides stand-by support for community events, such as the Chatham Turkey Trot, the Fishawack Festival, and many school sports events. CES also hosts blood drives including one on December 4, 2021, and provides free CPR training to residents, teachers, coaches, school crossing guards and emergency personnel, including fire and police. To learn more, to donate or to volunteer, visit chathamemergencysquad.org.