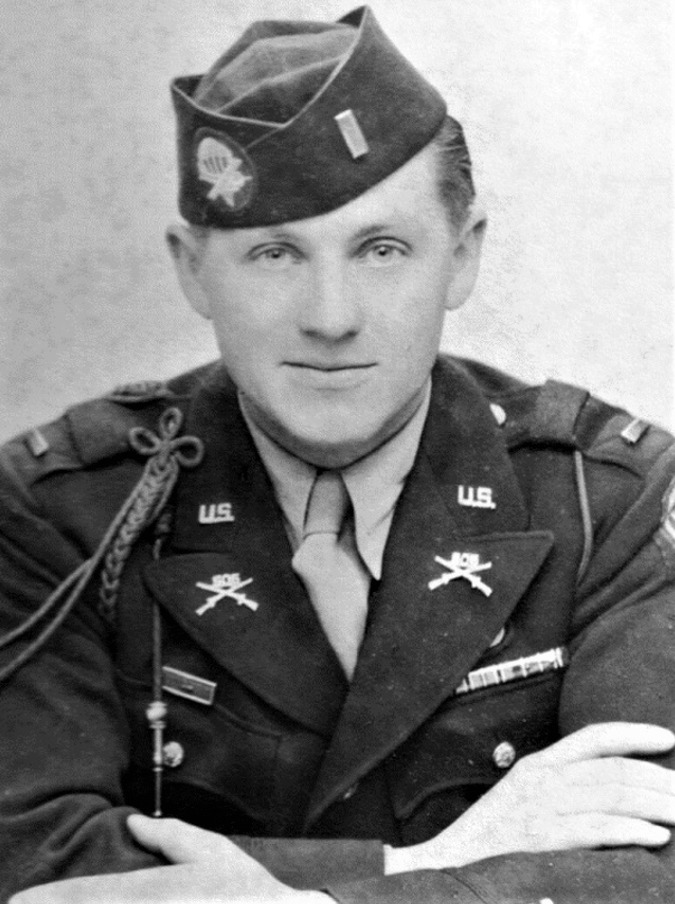 Kenilworth WWII veteran laid to rest
Adolf "Pat" Paterson, was one of the last two veterans who actually resided in Kenilworth and enlisted from town when WWII broke out. He was laid to rest with military honors at an October 8, 2021 memorial service at the Brigadier General William Doyle Veterans Cemetery in Burlington Co.
Born December 18, 1920, Pat arrived here from Elizabeth in 1929 at age nine. He came with his parents, Charles Adolf (1888-1965) and Ingebord Koed Paterson (1892-1973), and their other children: Rosemarie (Guertin), Edith, and Charles David.
The family settled at 25 S. Michigan Ave. Pat, his brother Charles David, and their father operated the Charles Paterson & Son Flooring Co. from garages in their backyard facing Kingston Ave., and from the cellar of their home. Pat continued to operate the business until retiring in 1981. The house and garages still stand.
Pat attended the Harding and the old McKinley schools. He was among the last of Kenilworth students to attend Roselle Park H. S. and proud to be a member of the first graduating class from Jonathan Dayton Regional H. S., Springfield in 1938.
The family was well engaged in fighting for the Allied cause. Pat's sister, Edith, enlisted in the Women's Army Corps (WACS) in 1943, our second only local brother and sister team to serve in WWII. Sister Rosemarie worked as an aeronautic instrumentation instructor to train servicemen. Pat's wife-to-be, Mary Jane Andy, worked at Inland Steel Works in South Plainfield which made landing boats for the war effort. After WWII brother Charles David served in the U. S. Navy in the Korean War.
Pat served in the Army Air Corps from 1942 to 1946 including as a tank destroyer commander and as an infantry unit commander attaining the rank of 2nd lieutenant. He was a member of the 82nd Airborne Division and an infantry paratrooper with the 101st "Screaming Eagles" Airborne Division. He was active in the Rhine Campaign and the Central Europe Campaign. He received many military awards and honors.
Pat talked of going to and from Europe on the luxury liners of the Queen Elizabeth and the Queen Mary, commandeered for military transport. He felt honored to have marched in the historic Times Square Military Parade, January 12, 1946.
He and his wife Mary Jane (1920-2011), married in 1946 and had seven children: Andrea (Suhaka), Bruce, Nancy (Zingler), Janet, Judy, Charles, and Karen (Thompson), deceased. They set up housekeeping in the late 1940s at 40 N. 23rd St. Years later they moved to Cranford. In the mid-1960s the house was moved to make room for the second St. Theresa's Church. That house was relocated to 509 Washington Ave and is now used for business purposes.
In Kenilworth Pat played on the Scarlets team in the adult softball league. He enjoyed bowling, square dancing, and helping out the Cub and Boy Scouts. A founder of the Lions Club, he served as president in the 1950s, and was a member of the building committee to erect in 1953 the Methodist Church on the Boulevard. He and long-time friend, Eugene Coppola (1920-2020) had a two-man reunion in 2015 recalling growing up in town, attending schools together, and sharing war stories. Pat passed away May 14, 2020 at age 99 years and 5 months. Services were postponed until recently due to COVID.
Pat and his wife's legacy include five grandchildren and one great grandchild. Be sure to remember all veterans on Veterans' Day, November 11.
Research provided by Walter E. Boright, Ed. D., historian, and Historic Signs, Inc., with assistance from the Paterson family. Persons with inquiries about this or other aspects of Kenilworth history may contact Dr. Boright at drbori@aol.com or 908-256-5200.