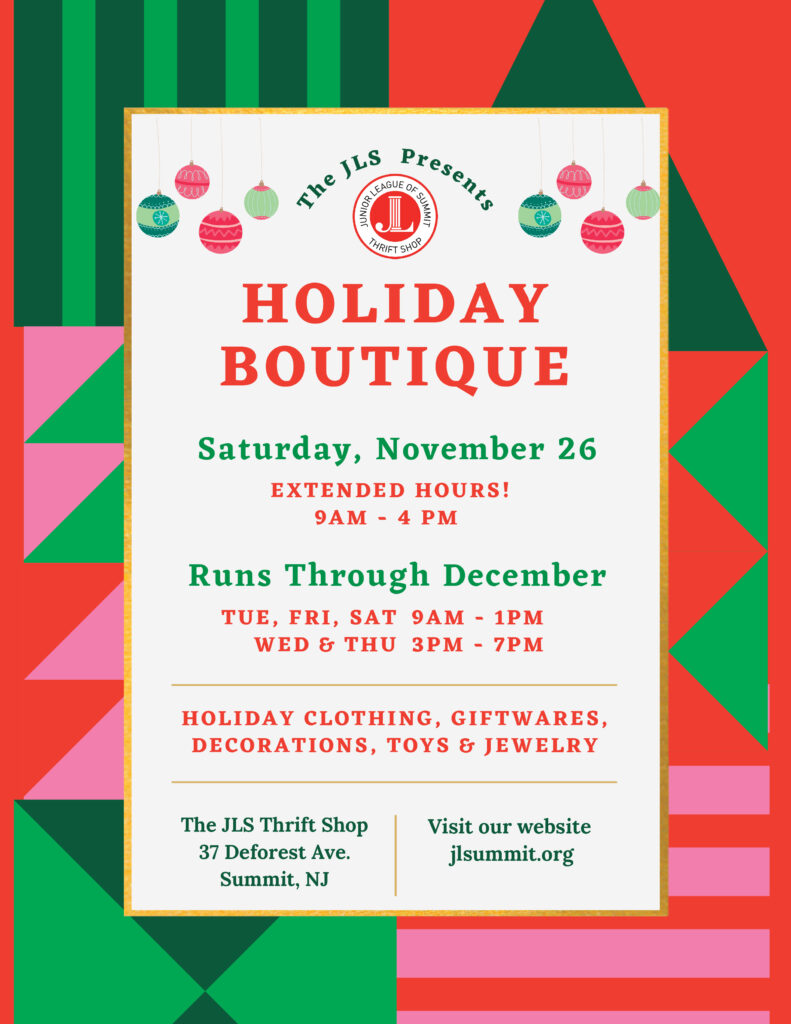 'Tis The Season!
Junior League Thrift Shop's Annual Holiday Boutique
The Junior League of Summit Thrift Shop is excited to announce its annual Holiday Boutique. The well-established event features a wide selection of new toys, new and gently used holiday clothing for everyone in the family, jewelry, accessories, and giftware, as well as holiday decor to make your homes festive! The Holiday Boutique is held in our shop at 37 Deforest Avenue, Summit, NJ, and begins on Saturday, November 26 (small business Saturday). The following week our hours will return to Tuesday, Friday, and Saturday from 9 a.m – 1 pm.; and Wednesday and Thursday from 3 p.m. – 7 p.m. 
"This event is a fun and exciting way to begin the holiday season! Be sure to mark your calendars and stop in to see all the treasures we have saved for this highly anticipated event," says Thrift Shop Manager Marie Avagliano.
As with all Shop sales, proceeds from the Holiday Boutique will directly fund the League's programming, community grants, and projects.
"Seeing the faces of so many excited customers at the Holiday Boutique really warms the heart! You can see the direct impact our Shop has on the wonderful members of our community," commented Junior League of Summit President Rachel Zucker. "We are thrilled that we can hold this event year after year, and we thank our customers and the community for the ongoing support."
The Junior League of Summit Thrift Shop in Summit was established in 1934 and offers new and gently used clothing and shoes for men, women, and children, toys, decorative items for the home, housewares, and furniture that are deeply discounted. It is the primary fundraiser for the Junior League of Summit and has provided the resources for the League's many grants, projects, programs, and scholarships over the years. Since its inception, the Shop has raised over $3,000,000 to benefit Summit and surrounding communities.
The Junior League of Summit, Inc. is an organization of women whose mission is to advance women's leadership for meaningful community impact through volunteer action, collaboration, and training. For more information about the Junior League of Summit, please visit the website at jlsummit.org or contact the office at 908-273-7349.