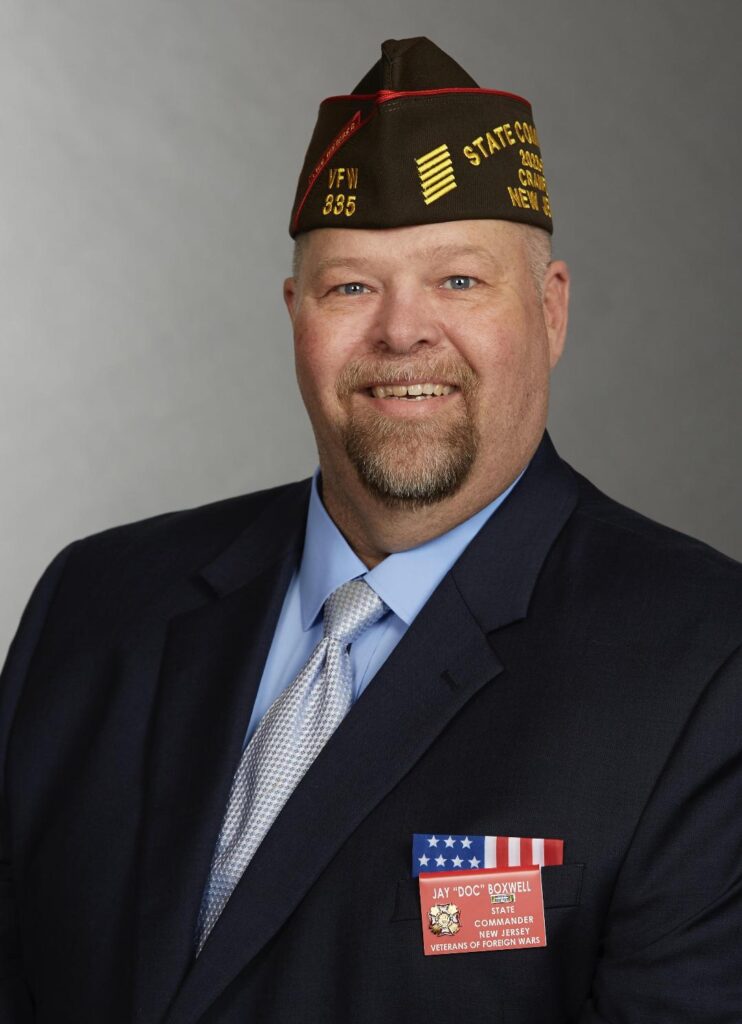 Jay Boxwell Named New State Commander
VFW Post #335, Cranford, NJ
It hasn't happened at the Cranford VFW in 56 years. A local resident and former Commander of Cranford's VFW Post #335 has been elected to the highest position in the New Jersey Department of the Veterans of Foreign Wars of the United States. Cranford's own Jay Boxwell is the new State Commander for New Jersey, a position for which he has been striving for years.
"It was a labor of love," said 56-year-old Boxwell. "The many steps you must go through to get to the top, the untold hours of service, ensures that you are indeed worthy and ready. The position is not only a challenging one but carries with it a ton of responsibility, he added. "The 30,000 members of the VFW are counting on our officers to keep important veterans' issues, such as benefits and healthcare, in front of those leaders of our State and Federal government who sometimes tend to overlook us."
The previous Cranford resident who was also Post #335 and State Commander was former Mayor Vincent Brinkerhoff, ever known as "Brink", who was selected to the State position in 1966.
Boxwell was elected by VFW Post delegates at this year's State Convention, held in Wildwood in June. The convention was attended by well over 400 members and culminated with a large celebratory parade which included a military aircraft flyover.
"Jay is the consummate professional" said current Cranford Post Commander Mark Schwartz.
"He has worked tirelessly for the last six years since he started this process, advocating for Veterans," he continued. "The Cranford VFW Post is extremely proud, but not at all surprised, that his hard work has led him to become the State Commander of the New Jersey VFW. His knowledge of VFW bylaws and passion for improving the plight of veterans has greatly benefitted the Cranford VFW and I have no doubt that as State Commander he will do great things for all the veterans of NJ."
Under his leadership, Cranford's Post #335 was named one of the top 26 VFW Posts in the nation based on community activities and membership retention. As a result, he was named an All-State Commander twice and an All-American Commander as well.
Boxwell, a Navy Corpsman, saw duty in Nicaragua, Libya, and served aboard the Battleship USS Iowa during the late 80's Middle East Wars. He has been an active VFW member for over 30 years and lives in Cranford with his wife Sharon and daughters Sophia and Brianna. Both are Cranford High School graduates who are now away attending college.
"I owe so much to my wife and daughters," explained Boxwell. "They are the ones who have put up with the hours and hours of meetings and days of travel away from home that I have done over the years chasing this goal of mine. They truly are so special."
Courtesy photos