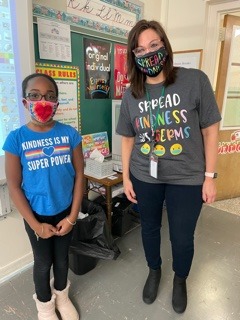 The Great Kindness Challenge
Submitted by Victoria Baum
Over at Thomas P. Hughes Elementary School in Berkeley Heights, students and staff have been busy practicing kindness.
For the past four years, Hughes School has happily joined the Great Kindness Challenge, a global initiative sponsored by Kids For Peace. Due to the pandemic, the most popular parts of the challenge were not possible this year, but with some creative thinking and the support of the generous PTO, "kindness kits" were created for every student.
The kits contained the checklist of kind deeds along with supplies to complete a variety of tasks. Teachers supported the initiative by developing kindness themed lessons and giving time in class to complete tasks such as writing notes to first responders, making cards for hospital residents, and participating in the Color-A-Smile project. Inspirational messages decorated mirrors and plexiglass dividers throughout the school, and staff and students even wore kindness themed t-shirts all week long.
The hallways at Hughes are brimming with students' colorful reminders to be kind because we all need a little kindness, not just during the Kindness Challenge, but all year long.
Photo by Berkeley Heights Public Schools