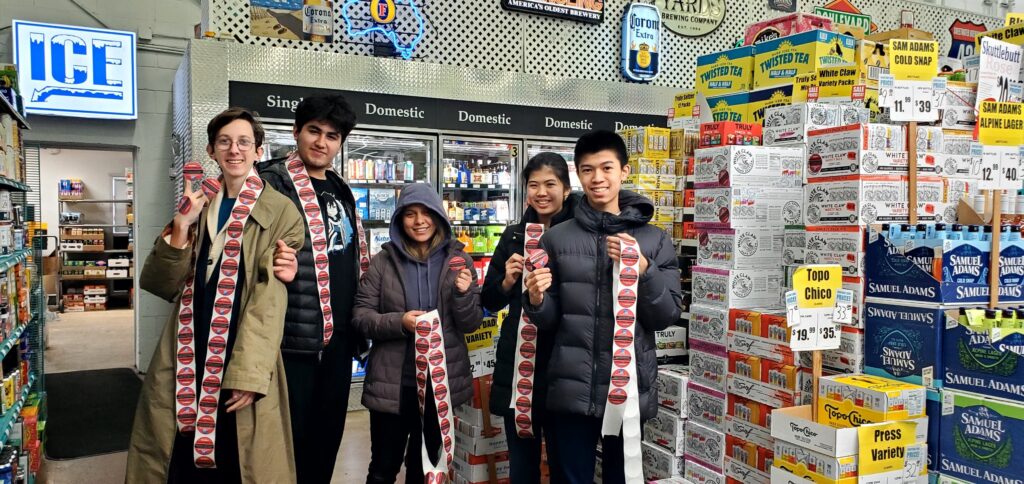 Project Sticker Shock
The HOPE (Healthy Outreach using Peer Education) Youth Peer Leadership Group and Chatham liquor stores have partnered to remind adults over the age of 21 what the risks of providing alcohol to minors are. The Sticker Shock campaign brings awareness towards underage drinking, one of the priorities of HOPE. The stickers are placed on the products throughout the store and act as "warning" labels to inform the public of the consequences they can face if they provide or purchase alcohol for minors. The message comes in loud and clear when minors are the ones spreading the word and taking action. Many are often unaware that they themselves can get into trouble along with the individual that is not of age for providing alcohol to minors.
Five HOPE students, along with their advisor, Amy Lewis, Coordinator of the Municipal Alliance Committee of the Chathams (MACC) which funds HOPE, placed stickers on alcohol bottles and boxes in Cottage Deli and Wine on South Passaic Ave. and Bottle King on Watchung Ave. in Chatham. The stickers remind customers that providing alcohol to those under age 21 is illegal and that they could face up to 6 months of jail time or $1,000 fine.
According to SAMHSA (the Substance Abuse and Mental Health Services Administration), adults who had their first drink before the age of 15 were 7 times more likely to experience alcohol problems than those who had not started drinking before the age of 21.