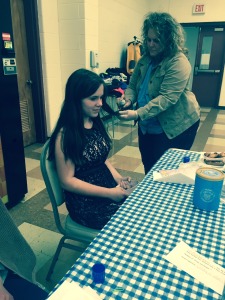 On Thursday, April 16, 2015, Green Brook Middle School held an Autism Awareness Day. It was a school-wide "wear blue" day. Staff members and students wore blue to make those aware of autism. Students and teachers purchased blue stripes and wore them in their hair to participate in the awareness. It was their way of lighting up GBMS with blue.
"Light it up Blue" and "Autism speaks" are the sayings you will hear when April and World Autism Awareness Day begin to approach. Blue is the color people around the world use and wear. It aims to increase people's awareness about those, especially children with autism.
The eighth annual World Autism Awareness Day is April 2, 2015. Every year, autism organizations around the world celebrate the day with unique fundraising and awareness-raising events. The NBA, the UN, over 16,000 buildings around the world including the Empire State Building, Sacs 5th Avenue, along with many other organizations shine light on autism awareness. Over 90 countries were lit up in blue to show how connected people are worldwide in raising awareness to autism.  From the Empire State Building in New York to the Niagara Falls in Canada and Burj Al Arab in Dubai.
Autism is a developmental disability that remains with a person for his or her whole life. This condition affects the brain's functions. The first signs usually appear before a child is three years old. Autism affects girls and boys of all races and in all geographic regions and has a large impact on children, their families, communities and societies. The prevalence is currently rising in many countries around the world. Caring for and educating children and young people with this condition places challenges on health care, education and training programs. Green Brook Middle School has joined the world in their "Light it up Blue" to spread the word and help autism speak.
Submitted by Gabrielle Vinhal