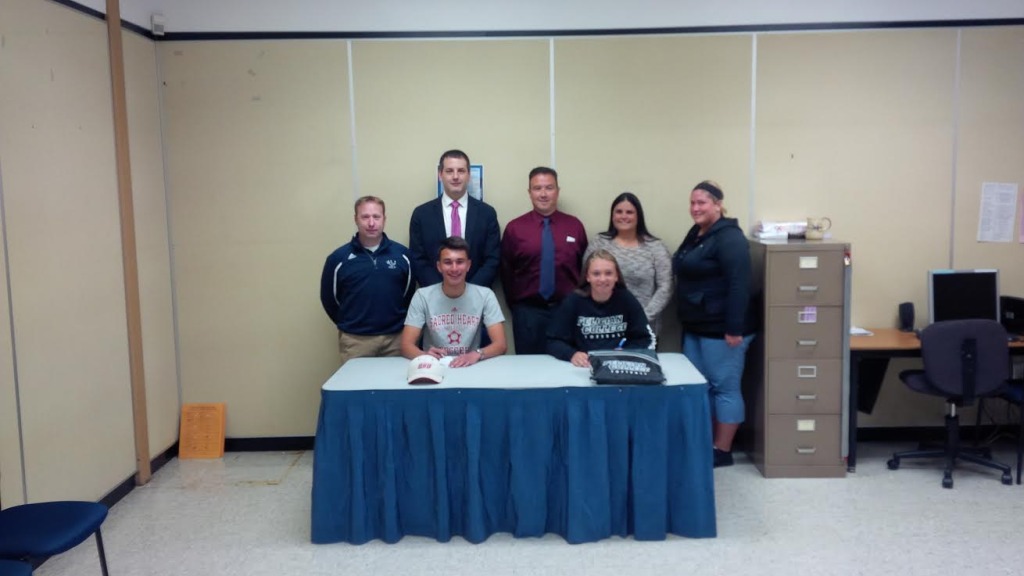 Seated from left to right are student athletes Damian Bozcar (Sacred Heart) and Stephanie Donah (Felician). Standing behind, from left to right, include Head Soccer Coach Dan House, Interim Superintendent of Schools Edward Grande, Head Softball Coach Michael Mancino, Assistant Softball Coach Erin Lanigan, and Assistant Softball Coach Laura Bundy.
On Monday, April 27, 2015, members of various Arthur L. Johnson Athletic Teams participated in a signing day ceremony to honor their four years of service to Crusader Athletics and commemorate their signing of Nation Letters of Intent to play NCAA Collegiate Athletics.
Johnson Senior Student Athletes Damian Bozcar and Stephanie Donah signed their letters of intent to continue their athletic and academic careers at the collegiate level, where they will continue playing the sports they love.
Damian will be playing soccer in college, at Sacred Heart University. The senior had an outstanding season for the Crusaders and will continue his academic and soccer career as a Pioneer. Stephanie Donah will continue her softball career at Felician as a Golden Eagle. Both student athletes have had wonderful careers as Crusaders.
Gus Kalikas, Athletic Director at Arthur L. Johnson High School, had this to say about the event. "Both Damian and Stephanie have been an integral part of the success of our athletic programs while attending Arthur L. Johnson High School. More importantly, they have been model student athletes that did things the right way both on the fields, in the classroom, and throughout our community. Although it will be sad to see them leave, Johnson's loss is their college's gain, and we look forward to following their successful collegiate careers over the next four years."
We would like to wish the best of luck to Damian and Stephanie as they culminate a wonderful career for the Crusaders and continue their academic and athletic successes as collegiate student athletes.