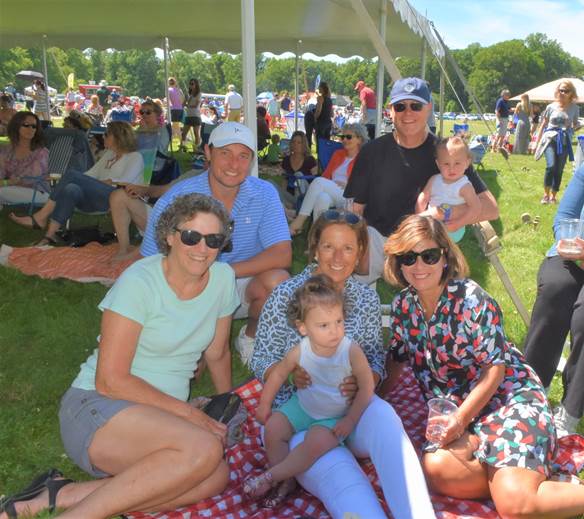 Music Festival to Rock Chatham Township
Great Swamp Watershed Association
Summertime in northern New Jersey has so much to offer – blue skies, pretty flowers, bright green trees, and of course, the Great Swamp Great Music festival, now in its 6th year. It's a fabulous reason to gather up your family and friends, grab some lawn chairs, and enjoy an afternoon of live, outdoor music. This musical event, hosted by Great Swamp Watershed Association (GSWA), takes place on Sunday, June 25, 2023, 12:00-6:30 p.m. at a picturesque new location, Brook Valley Farm, 336 Loantaka Way, Chatham Twp., New Jersey graciously offered as a venue by the Platt family. Listed in the National Register of Historic Places, Brook Valley Farm has a rich history in Morris County. These beautiful grounds are flanked by a lush, wooded mountainside and the historic Gibbons Horse Barn stables, built in 1834.
Seven local bands – some returning and some new – will entertain the crowd with a mix of classic rock, alt rock, Americana, and bluegrass. Nick Amling & The Lifeline will start things off when the gates open at 11 a.m. Kicking off the official start to the festival are Not Enough Jeffs, The Refugee Dogs, The Tones, The Cold Hill Band, and Lenox Underground. Newcomers, HighRidge Runners, will end things on a high note!
The festival also boasts food trucks, adult beverages for purchase, and unique, local merch vendors for browsing and shopping. Back this year we will have free children's face painting and the big tent for all to enjoy! As always, parking is free and plentiful.
"Great music, a relaxing afternoon with family and friends, fresh air, a scenic, unspoiled venue… this is what summer is all about," stated Val Thorpe, GSWA Director of Communications & Membership and festival producer. "This event is where music and community come together in a way that benefits our souls and the environment. What more could you ask for?"
Tickets are on sale now! Adults: $30, Students: $20, children 13 and under: free (At the gate – Adults: $35, Students: $25, children 13 and under: still free.) Learn more and purchase your tickets today at GreatSwamp.org.
Consider becoming an event sponsor. Your sponsorship helps support GSWA's mission while supporting a community event for all to enjoy. It's also a great opportunity to promote your business while demonstrating your commitment to a healthy environment. Check out sponsorship levels and benefits at GreatSwamp.org.
Great Swamp Watershed Association is a Morristown-based 501(c)(3) non-profit organization dedicated to protecting and improving the land and water from the Great Swamp headwaters in Mendham to Newark Bay. The Great Swamp Great Music festival is the organization's second largest annual fundraiser.