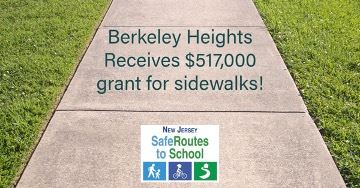 Grant Funding for Safe Routes to School
The Township of Berkeley Heights recently announced that it has been awarded a $517,000 grant award from the State of New Jersey's Department of Transportation Safe Routes to School Program.
The grant award will help pay for the "Walking is Fun" project, which will create safe walking routes along Snyder Avenue from Woodruff Elementary School to Hughes Elementary School. Specifically, the money will be used to construct sidewalks along the South side of the intersection of Locust Avenue and Snyder Avenue, up to Hughes school and to repair and replace the walking path behind Hughes School to Old Cannon Road. Once completed, this new sidewalk and path network will provide a safe and complete sidewalk network from not only Hughes School to the YMCA on Locust Avenue, but will help connect Hughes students to the neighborhood beyond Locust, in what is known as "the Woodruff School area." With the recent school redistricting, more students from this area are now walking from home to Hughes, and need a safe way to get there. The sidewalk will also allow more students to walk safely to the nearby YMCA and Snyder Park for programming.