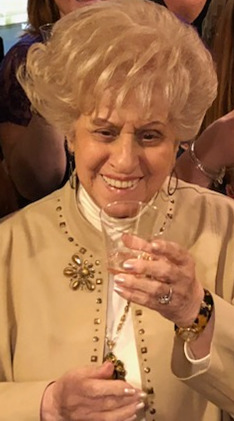 Gloria Prudente Nisky
Longtime Linden resident & active member of the community
Gloria Prudente Nisky, 95 of Linden, entered eternal rest on December 22nd, 2022, after living a very long and fruitful life.
Relatives and friends gathered on December 30th at Leonard Lee Funeral home where they were treated to Aunt Gloria's cream puffs. A Mass of Christian Burial followed at St. Elizabeth of Hungary Church. Entombment followed at Hollywood Memorial Park in Union where she was laid to rest next to her husband John Nisky.
Ms. Nisky was born and raised in Jersey City and moved to Linden in 1962. She was formerly employed as a waitress at the Edgar Road Diner for 20 years and at the Grill for 15 years, both under the same ownership. Gloria was the secretary and active member of the Woman of the Moose Lodge 913 in Linden, a volunteer at the Linden Retired Men's Club, and the AARP Chapter 1894. She also volunteered at St. Elizabeth Church with the Pre-Cana Program. A proud moment that she cherished was in 2018 when the city of Linden honored her as the Outstanding Senior Citizen of the year for her service to the community and as a member of the Ferguson Towers Senior's Club. Gloria also enjoyed her yearly modeling at the Generations in Style Fashion Show and her frequent excursions to Atlantic City, which allowed her to dress up, another attribute that she was known for. She was also a fervent Yankee fan and could hold her own in sporting debates with anyone.
Gloria was known for her baking, her blueberry cheesecake, pistachio cake, carrot cake, strawberry shortcake and of course her cream puffs were famous amongst her friends and family. Her handwritten recipes were bound into a book and given to each guest that attended her memorial service. At her repast reception, the guests were treated to a homemade spread of her desserts that were re-created by family members at Triestina Italian Restaurant in Cranford.
Gloria was the beloved wife of the late John Nisky (1996) and was also predeceased by her son, Thomas Santora, Sr, and her beloved and devoted companion, Edward Jones. She is survived by her grandsons Thomas Santora, Jr. and his wife Whitney of Baton Rouge, Louisiana; Michael Santora and his wife Kim, of New York; her nieces and nephews Cheryl Daniels, of Hawaii, Don Sweeney and wife Joanne of Cranford, Nancy Mullins and husband Jeff of Fords, Ron Sweeney of Plainfield, Colleen O'Connor and husband Bill of Rumson, and Patrick Sweeney and wife Michelle of Virginia.