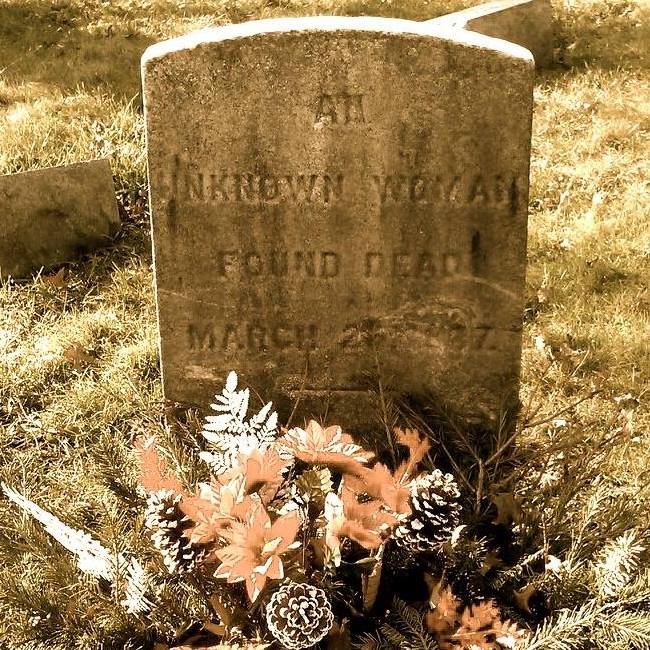 Ghosts of the Past Cemetery Tour
On the cold, Friday evening of March 25, 1887, the life of a young woman, whose identity has never been established, was snuffed out by a fiendish killer, who, like the victim, has never been named.
The unusual and intriguing story of the Unknown Woman Murder Mystery will come to life on Sunday, October 2nd when the Merchants and Drovers Tavern Museum Association presents its 28th Annual Cemetery Tour.
On the afternoon of the tour, visitors will be escorted to the graves of more than a dozen persons who were in some way involved with the case. Costumed interpreters will be stationed at the sites to portray the individuals and tell their stories.
Tour groups will meet Frank Worth, one of the brothers who found the body, Daniel Ryno, the undertaker, Dr. Walter Cladek, the doctor who performed the autopsy, and Mayor John Daly, whose city was unnerved by the murder. Reverend Alfred Gay will speak on the funeral, City Clerk Franklin Marsh will relate facts about the inquest, and railroad agent Richard Feist will tell a story about a suspicious passenger. Visitors will also meet the editor of the local paper, a mother whose son was implicated in the crime, a police officer who worked on the case, the town crier, and a young woman who will share the fears enveloping her community.
The Unknown Woman Mystery Tour was last presented in 2017 and was attended by over 400 visitors. Since we anticipate large crowds again, reservations are recommended. Tours start at noon and leave every fifteen minutes. The last tour will go off at 4 P.M. Each tour takes approximately two hours. Admission is $15 for adults, $10 for members of the Association and seniors (65+), and $5 for children (12 and under).
To make reservations and pay by PayPal visit our website at merchantsanddrovers.orgor call the Museum office at (732) 381-0441 for tour time availability and for more information.