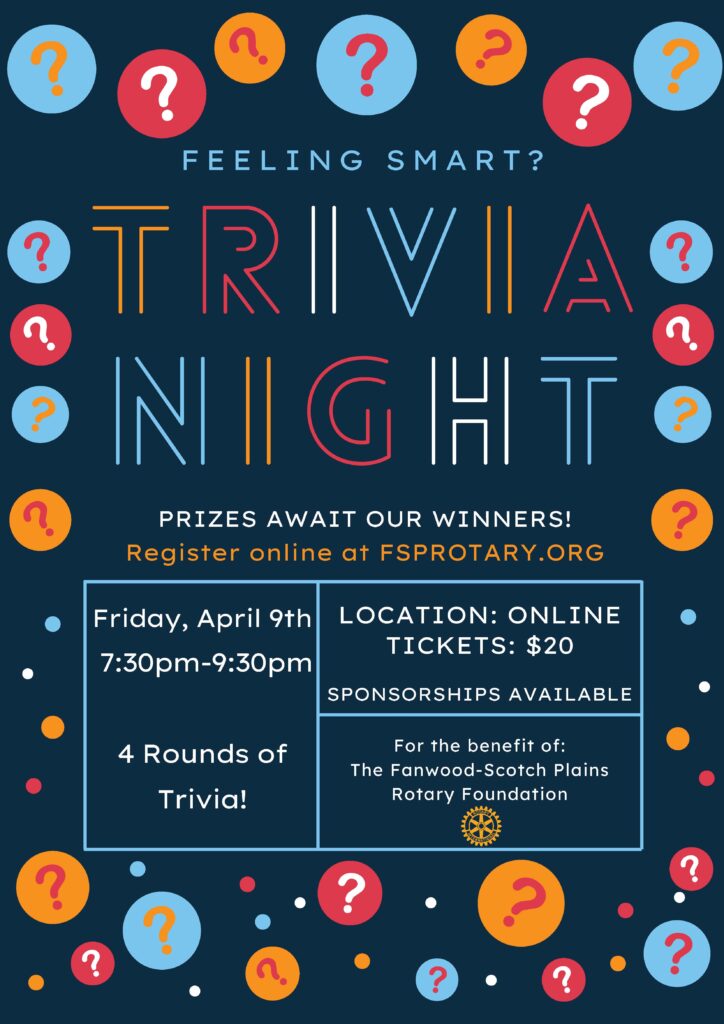 FSP Rotary Online Trivia Night
The Fanwood-Scotch Plains Rotary Club's first online Trivia Night will be held on Friday, April 9, from 7:30 p.m. to 9:30 p.m. Tickets are $20 per login and include four rounds of fun trivia. To purchase a ticket, go to fsprotary.org. You'll have an opportunity to purchase up to three mulligans – this will give you the option to correct one wrong answer per round, for a maximum of three rounds. Each mulligan costs $10. Finally, there will be great prizes, including gift cards.
A professional game organizer will keep things fun by asking all levels of questions on a variety of topics, including entertainment, sports, news and general fun. This is sure to be an exciting night.
Sponsorship opportunities are also available. These include the following: Event Sponsors (unlimited number available, and will be displayed during and after the event) $50; Round Sponsors (4 total, will have their logos displayed during the round and will be mentioned several times during the round and the event): $250; Round Sponsor add-on (includes a 2-minute presentation during the event): additional $50; Prize Sponsor: $350 (will be featured in all advertising, promotion and during the event, including doing a live presentation during the event).
For additional information about sponsorships, go to fsprotary.org or send an email to fsprotary@gmail.com.
All proceeds from the event will support the Fanwood-Scotch Plains Rotary Club's various local and international projects.