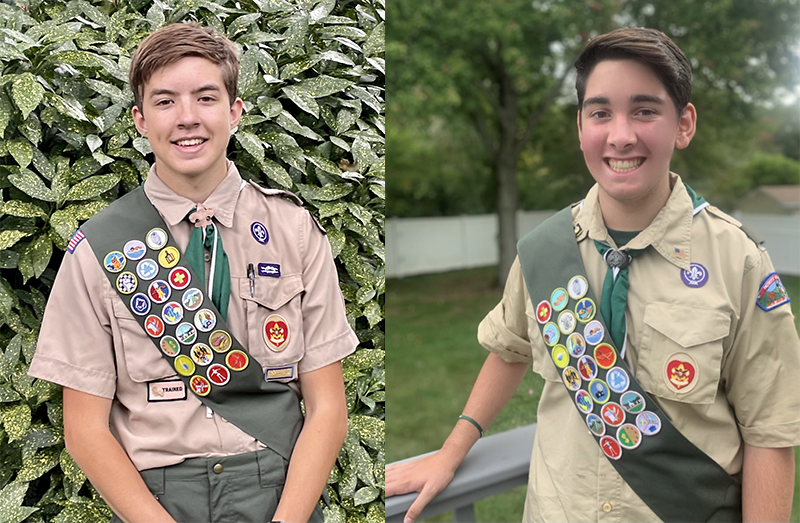 Fourteen Scouts Earn Rank Advancements
Scouts BSA Troop 7 celebrated rank advancements for fourteen scouts at its Court of Honor held on Monday, June 13, 2022.
As Senior Patrol Leader Dylan Hock explained during the ceremony, "The Boy Scouts of America recognizes achievements by awarding badges of rank. This Court of Honor is an opportunity to celebrate the Scouting traditions and to share in our Scouts' achievements."
The rank of "Scout" was awarded to Colin Detgen, Peter Kohut, Ryan Egan, and Sebastian Schleck of Madison and Nate Estrella of Florham Park. "Second Class Rank" was awarded to Robert Crimmins and Ryan Egan of Madison and Patrick Roberts of Harding Township. Mason Hock of Madison was awarded the "First Class" rank, Dylan Hock earned "Star" rank, and Ryan Hock earned the rank of "Life" Scout.
Troop 7 also recognized Ryan Carrell, George Dailey, and Connor Erezuma for earning the Eagle Scout Award, the highest and most coveted rank in Scouting and the last major step in the advancement program. Scoutmaster Martin Gurney lauded these young men by remarking that "fewer than 4 percent of all Scouts in the United States reach the Eagle Scout rank."
"To meet the most rigorous requirement for this rank, each of these Eagle Scouts planned, developed and led others in carrying out a significant and meaningful service project to benefit their community. It was especially challenging for these three young men, as they executed their projects under lockdown conditions over the 18 months. Ryan Carrell, who lives in East Hanover, built an outdoor classroom at Brooklake School in Florham Park. George Dailey, a Madison resident, coordinated a team of volunteers to assist with the construction of timber stairs on a trail in Madison's Summerhill Park. Madison resident Connor Erezuma selected a conservation project, building and installing bat boxes for a protected species around the perimeter of the Madison Community Pool. In carrying out these service projects, Ryan, George and Connor have left an important mark on their communities, and we applaud them."
Troop 7 is chartered by St. Vincent Martyr Catholic Church in Madison. Information about Troop 7 is available online attroopwebhost.org/Troop7Madison, and young men ages 11-17 are welcome to observe a meeting or join at any time.
Courtesy photos