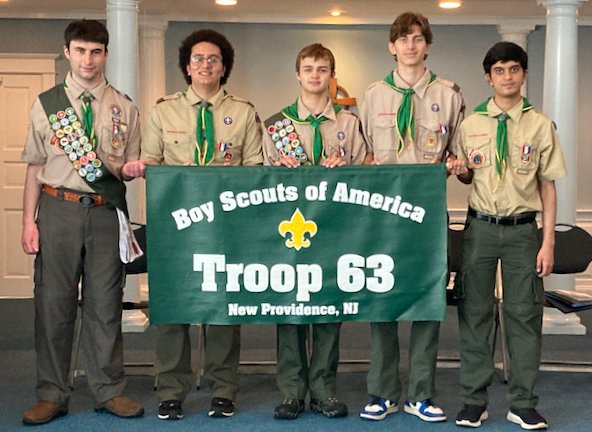 5 New Eagle Scouts Honored
Scouts BSA Troop 63
Families, friends, and local dignitaries recently gathered at New Providence Presbyterian Church to honor 5 young men who earned the Boy Scouts of America's highest advancement rank: Eagle Scout. The 5 new Eagle Scouts from BSA Troop 63 are: Michael Staunton of Summit, Haitham Awad, Bauer Crooks, Gyan Ghoda, and Ivan Grandov of New Providence. Each has held various leadership positions during their scouting career. Gyan Ghoda and Michael Staunton are also members of the Order of the Arrow, the National Honor Society of Scouting. Troop 63 was charted in 1927 and has since seen 121 of its members become Eagle Scouts.
Part of the Eagle Scout Ceremony is to invite all previous Eagle Scouts present to come on stage to congratulate those joining their ranks. Over 20 such members were on hand to do so. Mayor Al Morgan, Councilwoman Diane Bilicska, and Councilman Rob Munoz were among those in attendance as was Senior Pastor Jeff Lee who had also earned his Eagle Scout rank with Troop 63. Each new Eagle Scout also received congratulatory letters from members of the New Jersey Assembly and Senate as well as our US Senators and Congressman.
During the ceremony, Bauer Crooks and Michael Staunton were also awarded the Bronze Palm for earning additional Merit Badges beyond the Eagle requirements.
Bauer Crooks is a Junior at Seton Hall Prep, Hiatham Awad and Ivan Grandov are Seniors at New Providence High School. Gyan Ghoda and Michael Staunton are Seniors at the Academy for Information Technology in Scotch Plains.
Scouts BSA Troop 63 welcomes new members. The Troop meets every Tuesday at 7:30 p.m. during the school year at The Presbyterian Church at New Providence, 1307 Springfield Avenue. For more information, visit: troop63np.org or email scouts@troop63np.org.
Courtesy photo