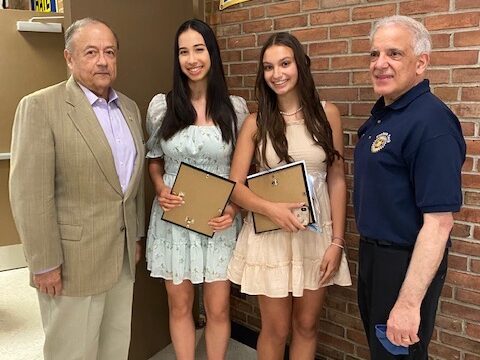 Rotary Awards Scholarships
The Florham Park Rotary annually awards scholarships to high school seniors living in Florham Park who have demonstrated community involvement. That's something significant in a community that prides itself as a "Community of Volunteers".
Sydney Stavraka and Samantha Howden are this year's scholarship award winners. Stavraka and Howden received their certificates at the Hanover Park Awards Ceremony on June 6, as presented by Peter Nicolas, Florham Park Rotary Sergeant-at-Arms.
Sydney Stavraka was the winning recipient of the Rotary Scholarship Award for her long history of volunteerism, including her work in the Market Street Missions, which helps feed the homeless. She was also recognized for her work at the United Nations Youth Association. It is interesting to note that Rotary was present at the start of the United Nations in 1945 to serve as consultants to the U.S. delegation to the UN charter conference.
Samantha Howden received the Rotary Community Service Certificate, her volunteerism, including her work and skills with the kids at SparkLab, a place that provides a safe, interactive space for kids to engage with the invention process.
In reflecting on the two, George Gregor, Rotary President, commented "Both are fine young people. They are a credit to their families and to the Florham Park community. This is an important stage in their lives and we wish them success."
On July 4, residents, friends and neighbors can wave to them in appreciation as they ride by in a silver 2000 Ford Mustang convertible as part of the Florham Park Independence Day Parade route.
Gregor welcomes guests to join a weekly Rotary breakfast meeting from 7:47 a.m. to 8:47 a.m. held every Friday at the Florham Park Diner at 182 Ridgedale Ave.
"The Rotary of Florham Park is a sophisticated, yet fun, network of professionals who enjoy providing service to our local and global communities," he said.
To learn more about local Rotary, visitFlorhamParkRotary.com to see photos of some of the recent scholarship winners, many past events, and future plans.
Courtesy photos