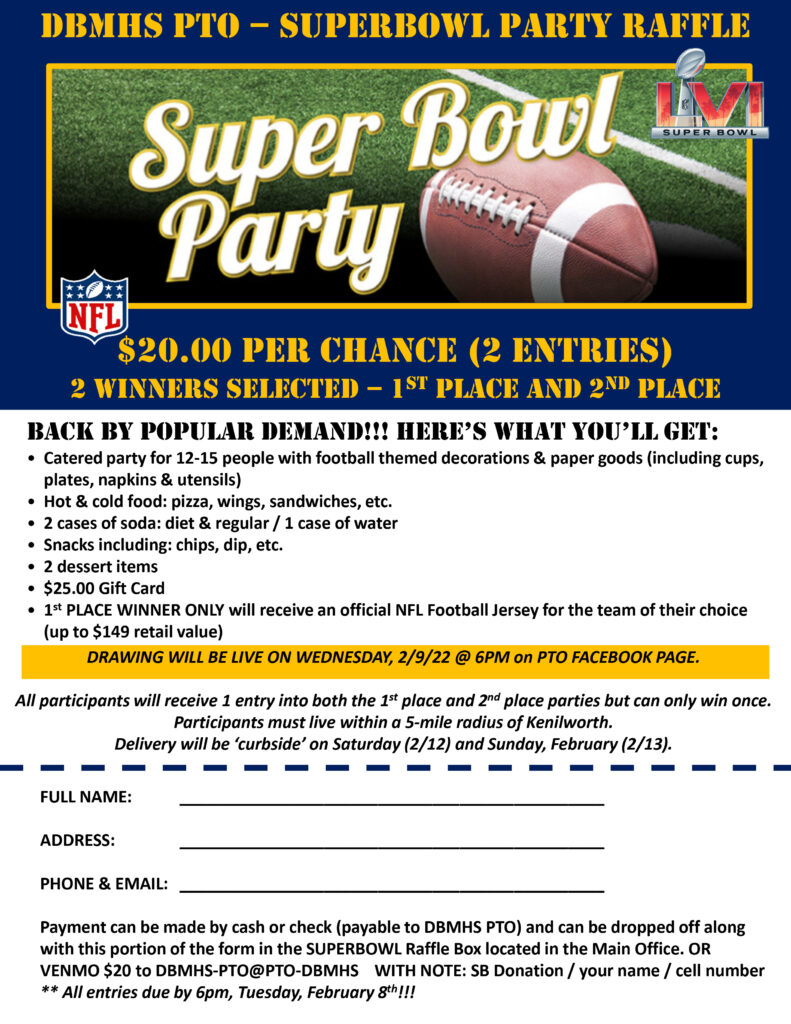 Super Bowl LVI Party Fundraiser
The David Brearley PTO's Super Bowl LVI Party Fundraiser is back by popular demand!
Only $20 for 2 chances to win a fully catered party for 12-15 people. 1st & 2nd place winners receive: Football themedpaper goods & decorations; snacks, chips, dip; hot & cold food, pizza, sandwiches, pasta; 2 cases of soda & 1 case bottled water; 2 dessert items & a $25 gift card. In addition, the 1st place winner will receive an official NFL Jersey of their choice ($149 Value).
The drawing will be held live on Wednesday, February, 9 2022 at 6 p.m. on the PTO Facebook Page.
Participants must live within a 5-6 mile radius of Kenilworth. Delivery will be 'curbside' on Saturday (2/12) and Sunday, February (2/13).
Payment can be made by cash or check (payable to DBMHS PTO) and can be dropped off at 624 Boulevard, Kenilworth, Monday thru Friday, 3-6p.m.; or VENMO $20 to DBMHS-PTO@PTO-DBMHS, please add to notes: SB Donation. All entries must be received by 6 p.m. on February 8th.