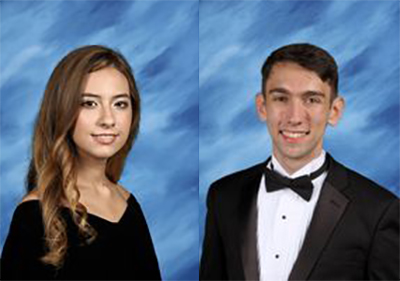 David Brearley Valedictorian and Salutatorian 
The David Brearley High School's Class of 2022 is well represented by two outstanding academic powerhouses, Valedictorian Raquel Conceicao and Salutatorian Ryan Tyra.
Raquel served the school community as a Peer Leader and editor-in-chief of The Bear Print newspaper. She also participated in theater and theater stage crew, and as a volunteer with Clean Ocean Action, she participated in the beach sweep at Sandy Hook. Raquel will be a pre-med/biology student at Johns Hopkins University.
Ryan has been a member of the David Brearley Scholars Academy since 7th grade and served as president of the National Honor Society. The scholar-athlete also was a member of the football team and Homecoming King, while earning the highest grades in his AP classes throughout high school. Ryan will study business/accounting at Florida State University.
Congratulations Raquel and Ryan!