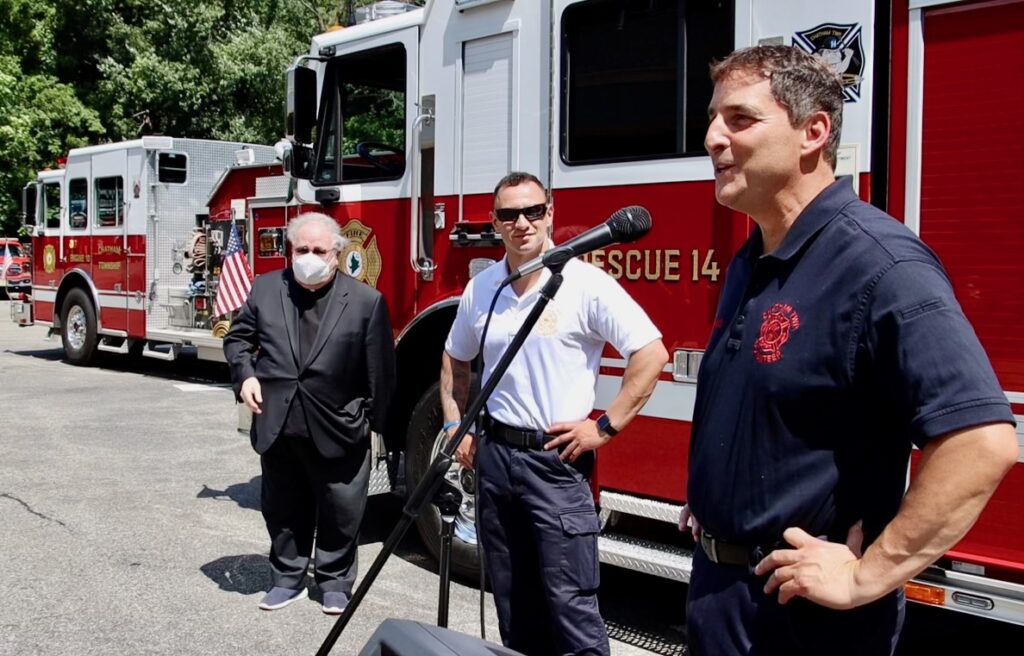 CTVFD Dedicates New Equipment to Past Members
Submitted by Richard Gentles
On Saturday, June 4th, Chief Matthew Chase, President Richard Gentles, former Chief Matthew Lemons, and members of the Chatham Township Volunteer Fire Department (CTVFD) joined by Rev. Msgr. James Mahoney, blessed and dedicated three pieces of equipment that support their lifesaving mission.
Rescue 14 was dedicated in honor to Edward P. Sagendorf Jr. The Sagendorf family have faithfully served Chatham Township for over 60 years, starting with Ed who joined the CTVFD in 1962 and was a member until he passed away in 2007. Ed was a primary driver of the first Rescue 14 which was acquired in 2001. Ed brought tremendous skills and commitment to the CTVFD, helping whenever and however he could to support the members and maintain the infrastructure of the department. Ed's three son's; Edward the 3rd, Robert, and Gary and his grandson Robert Jr. are all active members of the department.
When Engine 10 was blessed by Rev. Msgr. James Mahoney in 2010 in conjunction with the then newly erected Station 2 on Southern Boulevard, it was never dedicated. It was with great pride that Engine 10 was dedicated in the memory of John R. Atchison. John, who was affectionately referred to as "grumpy", joined the CTVFD in 1974 and served the department for 43 years until his passing in 2017. From his service to our country in the Korean War, to driving a milk truck, a flatbed or wrecker for his son, and driving the first engine out of Station 2 for 40 years, John was a lifelong truck driver. John also brought his family into the department. His grandson, John J. Atchison, joined this department and is a now a career firefighter in Virginia.
Earlier this year, the CTVFD took delivery of a new brush truck. Brush Truck 13, which is critical to fighting off-road fires and rescues, was dedicated inhonor of Joan Horak. Mrs. Horak, who was not affiliated with this department but donated very generously upon her passing on February 2020 at the age of 93.
Joan Wold Horak and her husband Emil lived in Chatham Township for 40 years. She was an accomplished musician having studied at The Juilliard School in NYC where she mastered the Tuba and Piano. She dedicated 30 years of service to Clara Maass Medical Center in Belleville, NJ, was a former member of the Ladies Auxiliary of the Zion Lutheran Church in Clark, NJ and most recently, was a devoted member of Gloria Dei Lutheran Church. Joan was an avid reader, a bird watcher, gardener, and a true lover of nature. She also had the distinction of being a life member of the Sons of Norway joining in 1947. The new brush truck is fittingly dedicated in her memory.
Chief Matt Chase and President Richard Gentles concluded the ceremony by thanking all the members who risk their lives to help the community and their families who support them.
About the Chatham Township Volunteer Fire Department
Established in 1925, the Department is comprised entirely of volunteer members including 25 active firefighters, junior firefighters and associate members providing services 24 hours a day, 365 days per year. The department operates its headquarters on River Road and a second station on Southern Boulevard and responds to approximately 350 calls each year, both within Chatham Township and in the form of mutual aid to departments in neighboring communities.
Courtesy photos