Cranford Police Department Hosts Annual National Night Out 2019
On Tuesday, August 6, 2019, the Cranford Police Department invited the community to join millions of neighbors across thousands of communities from all fifty states, U.S. territories and military bases worldwide for National Night Out. They were joined by Cranford's Fire Department, Rescue Squad, the Union County Prosecutors Office, and other first responders. They held demonstrations for the kids, and allowed them to explore their vehicles and equipment and ask questions.
The event also featured a face painting station, inflatable activities, a DJ, free food and giveaways, and other entertainment.
The "Dunk-A-Cop", an annual fundraiser, raised almost $700 for Project Home of Cranford. The group also collected canned good for Cranford Family Care. Caren Anne wrote on the group's Facebook page  "Thank you so much to everyone that came out to National Night Out and supported our Dunk Tank fundraiser! Very special thanks to D/Sgt. Nazzaro, Officer Handy, Officer Drew, Officer McSharry, Officer Folinusz and Officer Cook who volunteered to be in the dunk tank as well as Detective Jones, Captain Van Bergen, Chief Greco and the many members of the CPD who helped make our event happen."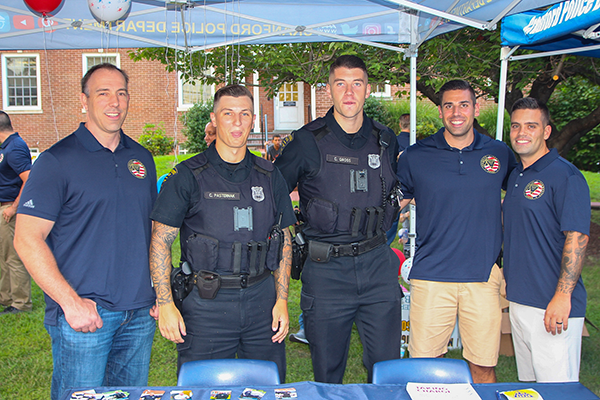 WHAT IS NATIONAL NIGHT OUT?
National Night Out is an annual community building campaign that promotes police community partnerships and neighborhood camaraderie to make our neighborhoods safer, more caring places to live. National Night Out enhances the relationship between neighbors and law enforcement while bringing back a true sense of community. Furthermore, it provides a great opportunity to bring police and neighbors together under positive circumstances.
Millions of neighbors take part in National Night Out across thousands of communities from all fifty states, U.S. territories and military bases worldwide on the first Tuesday in August. Neighborhoods host block parties, festivals, parades, cookouts and various other community events with safety demonstrations, seminars, youth events, visits from emergency personnel, exhibits and much, much more. For more information visit natw.org.
Click Here to see MORE PICTURES from this Event and Other Events
Photos also available on the Cranford Monthly Facebook Page