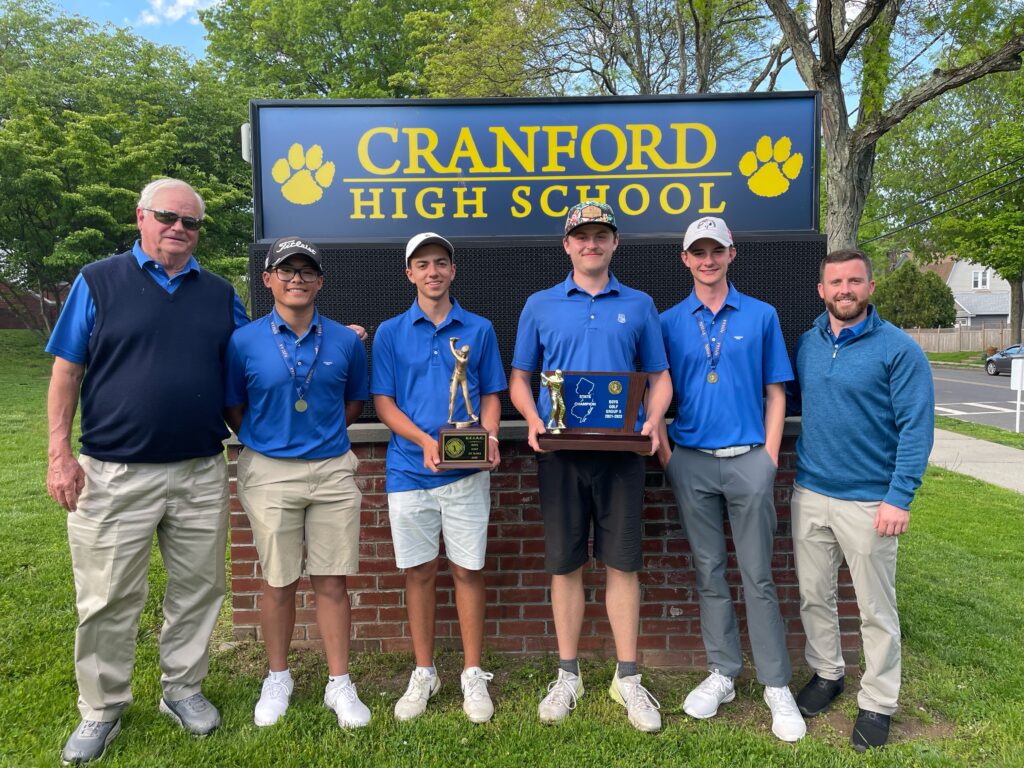 Cranford High State Championship Golf Team
Submitted by Bill Ray
Junior Derek Gutierrez and Senior Elliot Parker recently led the Cranford High Golf team to their greatest season ever. The team which compiled a 15-0 record won the Union County Tournament at Echo Lake CC, the Central New Jersey Group 2 Sectional Tournament at Twisted Dune GC in Egg Harbor, and the NJ State Championship Group 2 title at Hawk Pointe in Washington Township.

Derek Gutierrez finished second at the Tournament of Champions by firing an even par 72 at Hawk Pointe GC. Within the past month Derek shot 74 to finish third in the Blue Devil Invitational at Echo Lake CC, 71 for third place in the Watchung Conference at Galloping Hill GC, 71 in the Union County Tournament at Echo Lake to finish tied for second and 76 In the State Sectionals at Twisted Dune GC. Including dual matches his 9 hole average was 37.04 and he was named to the All – Conference team.

Elliot Parker's season was equally impressive. He shot a 1 under par 71 at Twisted Dune to become the South/ Central NJ Group 2 medalist. He followed that a week later by carding a 76 in the State Finals at Hawk Pointe. He also tied Derek for second in the Union County Tournament with an even par 71. Earlier he finished second in the Peddie School Invitational with a 71 and Elliot also broke the single 9 hole record for Cranford with a 6 under par round at Canoe Brook South. He had 2 eagles and 2 birdies in the 9 hole match vs Summit. Including dual matches his 9 hole average was 36.75 and he was named to the All – Conference team. Elliot will be attending Drew University in the fall and will be a member of their championship golf team.

Sophomore Brandon Quach also had an outstanding spring highlighted by rolling in a 12 foot birdie putt in the State Finals Playoff which put Cranford over the top against second place Madison. Brandon also fired the second best round in the Watchung Conference tournament at Galloping Hill with a one under par 70. His other tournament scores were 75 at Peddie, 78 in the Blue Devil, and 83s in the Union County Tournament, State Sectional and State Finals. He also fired a 2 under par 34 at Plainfield CC to help the Cougars defeat Westfield who were defending Tournament of Champions winner and ranked first in the state. Brandon also earned All – Conference honors.

Other players who made major contributions to the unbeaten season are junior Nick Ret (44.32 ave), sophomores Danny Kennedy (45.18 ave) and Jake D'Aquino (45.3 ave). Sophomores Chris Santarelli and Ryan Bissell gained a great deal of experience and will be vying for starting positions next year along with junior Matteo Wilde. Senior letter winners who will be missed are Kevin Ruple who will be attending Rutgers, Brian Readie who will be continuing his education at Scranton University, Zach Manhardt, University of North Carolina – Wilmington and Connor Howard who will pursue a business career.