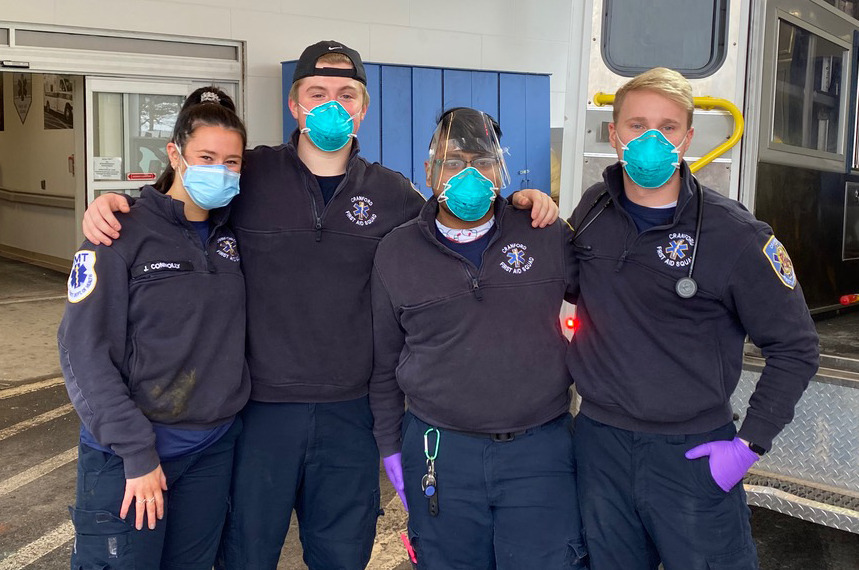 Cranford First Aid Squad Baby Delivery
Submitted by Kent Lucas
On an early morning in 2020, the Cranford First Aid Squad crew of EMTs Julia Connolly, Gianni Matadial, Jake Thompson and Brian Waldner was dispatched for a woman in labor. The sleeping crew members, who always stay overnight at the CFAS building in order to have the quickest response possible, jumped out of bed and quickly headed to the scene to meet the Cranford Police Department.
Upon arrival, the baby's head was starting to appear and it was evident that the birth was imminent. There would be no time to transport to the nearest emergency room and the decision was made to deliver the baby at home.
As the delivery progressed, it was found that the umbilical cord had wrapped around the baby's neck. This is called a nuchal cord, and it occurs in roughly 20% of all births. Usually it is not a threat to the health of the baby, as the cord can be slipped off the neck as the head is delivered, and fortunately that was the case for this baby.
The delivery came quickly. After delivery, EMT Connolly assessed the newborn baby while EMTs Waldner, Matadial, and Thompson were caring for the mother, taking her vital signs, and monitoring her condition.
The baby's initial APGAR score was taken and found to be good. AGPAR, a score from 0-10, is a method for quickly assessing the health of a newborn. It was created in 1952 by Dr. Virginia Apgar, a New York–Presbyterian Hospital physician, who was born and lived in Westfield NJ. The initial score, just after birth, determines how well the baby tolerated the birthing process and the 5-minute score tells the health of the baby outside the womb.
Paramedics soon arrived on scene and accompanied the First Aid Squad crew, transporting mom and baby to the ambulance. Both were taken to the hospital and were perfectly healthy.
Photo by Cranford First Aid Squad