Submitted by: Joan A. Nathan, Secretary, Cranford First Aid Squad
Born in Queens, New York, Barbara moved to New Jersey in 1975. Barbara was active in numerous community organizations amongst them were the Rosary Society at St. Theresa's Church in Kenilworth, the Catholic Daughters of St. Theresa's Court, Kenilworth Senior Citizens, a member of the Cranford Senior Talent Show (most recently performing for the Clark Recreation Senior Citizen's Group), Cranford Senior Citizens, the Cranford Action Committee on Underage Substance Abuse, Assistant Treasurer of the Second District of the New Jersey State First Aid Council for many years, and President and 40-year member of the all-volunteer Cranford First Aid Squad (CFAS).
"My relationship with Barb goes back almost 30 years and I have many fond memories. The impact her volunteerism had on the community and her dedication to the Township of Cranford will be her legacy, which, will live on for years to come. God Bless her" . . . Chief James Wozniak, Cranford PD
"Barbara is going to be greatly missed. Please join The Cranford First Aid Squad and The Second District, New Jersey State First Aid Council in keeping her spirit alive by remembering her and her family in your thoughts." . . . Second District of the New Jersey State First Aid Council (NJSFAC)
"I don't think there is anyone in Cranford that didn't know her directly or indirectly. She was also very active in other organizations, but her love was the First Aid Squad. She was the glue and the driving force that kept the Squad going! We have enormous shoes to fill. . . The Cranford First Aid Squad Barbara is predeceased by her husband Andrew Ragone who passed in April 2014, and also her daughter Lisa Ragone. Surviving are three children: Andrea Lewis and her husband Craig, Robert Ragone, and Barbara Cicalese and her husband Thomas. In lieu of flowers the family asked that donations be made to Capital Health Neuroscience Fund in Trenton, NJ.
The all-volunteer Cranford First Aid Squad has set up a Scholarship Fund in Barbara's name so her 40 years of volunteerism and dedication will continue to live on through others. The CFAS scholarship will be awarded annually to deserving volunteers of the Cranford First Aid Squad who are pursuing a career in the medical arts field. Donations can be send to: Cranford First Aid Squad, P.O. Box 1771, Cranford, NJ 07016.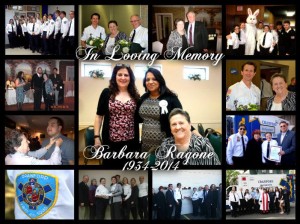 's family and the Cranford First Aid Squad were deeply appreciative and overwhelmed by the massive non-stop turn out of those who came to give their last respects to Barbara. We would also like to extend our sincerest thanks to all the Cranford, Kenilworth and Roselle Park Police, the Motorcycle Divisions, the Cranford Fire Department, the 2nd District of the New Jersey State EMS Council, and Roselle Park, Scotch Plains, Summit, Westfield, Garwood, and Winfield Park EMS that were part of Cranford's shift coverage or showed up to say their final good-bye to Barbara.
It was extremely impressive when the funeral procession slowed down by the Cranford First Aid Squad building for Barbara's last pass-by. All the police, fire and surrounding EMS town rigs were lined up. When the funeral car passed by, all the emergency lights went on and the horns blasted to say good-bye to Barbara for a job well-done! . . . She will be missed!