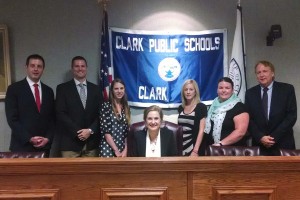 Four new teachers were hired by the Clark Board of Education at the Board of Education Meeting of Tuesday, 22 July.
Serving in the role as maternity leave Biology and Environmental teacher at Arthur L. Johnson High School for the upcoming school year will be Mr. Chris Vanderslice. Mr. Vanderslice is a graduate of St. Petersburg College in Florida with a Bachelor of Arts Degree in Biology. The Most Valuable Player and team captain of his high school baseball team and pitcher for his college teams, Mr. Vanderslice had the opportunity to pitch in spring training games against the San Francisco Giants and Seattle Mariners.
Assuming the role of District English as a Second Language (ESL) teacher will be Miss Melissa Gabriele. Miss Gabriele earned her Bachelor of Arts Degree from Montclair State University in Family and Child Studies along with her certification as an Early Childhood teacher. She subsequently received post Bachelorette certification as an English as a Second Language teacher. Miss Gabriele has worked as a primary school teacher and ESL teacher with the West Orange and Belleville school districts before joining the Clark schools.
Serving as a maternity leave Special Education teacher at Arthur L. Johnson High School will be Miss Tara Gordon. Mrs. Gordon earned her Bachelor of Arts Degree in Communications, Public Relations and Journalism from Monmouth University and her Master of Arts in Teaching from Early Childhood and Special Education from New Jersey City University.
Miss Samantha McHugh will be a Kindergarten maternity leave replacement teacher. She is a graduate of Rider University where she dually majored in Elementary Education and Dance Studies. Miss McHugh did her student teaching in a kindergarten classroom in the Manalapan Schools in Monmouth County.
(pictured) Newly hired teachers Chris Vanderslice, Samantha McHugh, Melissa Gabrielle, and Tara Gordon pose for a picture after the Board of Education Meeting with Assistant Superintendent Ed Grande, Board of Education President Lorraine Aklonis, and Superintendent of Schools Kenneth Knops.