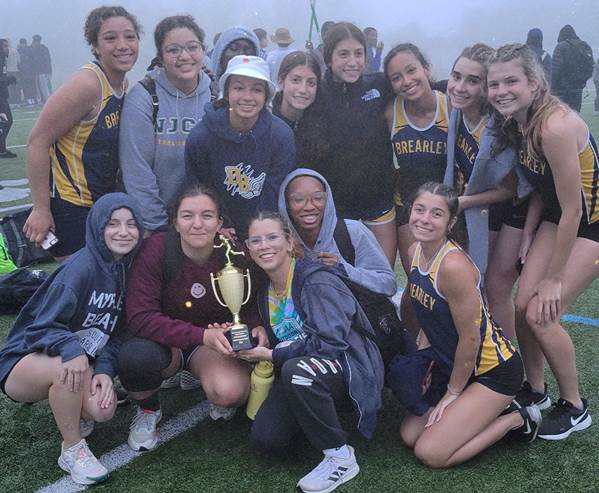 Girls Track and Field Compete Their Way to History
Kenilworth Public Schools
David Brearley High School's Bears made history at the Union County Conference Championship meet.
The Valley Division Conference title was Brearley's first-ever girls track championship and only the third track championship in the school's history. The boys winter track team earned a title in 1991, and the boys spring track team won a championship in 1992.
This year's champs initially had no idea what they had achieved.
"At first, the girls didn't even realize the history they had made," said Head Coach Matthew Pitarresi. "Hearing that you're a conference champion is one thing, but to know that you're the first to ever do it in the school's history and in a county as competitive as ours, that's something else entirely."
Union County's 20-plus teams are divided into three divisions: Watchung, Mountain, and Valley. Brearley, in the Kenilworth school district, competes in the Valley Division alongside A.L. Johnson, Hillside, Linden, Plainfield, Roselle, Roselle Catholic, and Roselle Park. The Bears came out on top with 156 points, ahead of Hillside's second place by almost 50 points.
Pitarresi said he and assistant coaches Allen Phillips, Jacob Ulasevich, and Robert Kessler knew the amount of talent they had returning to the team this year and could not be prouder of the remarkable accomplishment.
"Due to the pandemic, this academic year was the first full-on winter and spring season for our team since 2019. We knew we would have some amazing athletes out there competing who were finally given a chance to put in the work."
Brearley placed in 13 of the 16 events on May 13, with some athletes placing in multiple events.
"Last year, we had about 16 athletes combined between the boys and girls teams. This year, we have 30 girls on the team. A lot of underclassmen stepped up, making the team a lot more well-rounded, and everything came together. We really weathered the storm," said Pitarresi.
The achievement comes as the Kenilworth district isproposing improvements that include a new track and a synthetic turf field. Replacing the track would allow Brearley to host meets and provide an upgraded surface for community use.
Fresh off their division championship, the Bears competed among all three county divisions in the Union County Interscholastic Athletic Conference meet on May 24 and 25.
One member of the team made more Brearley history at the UCIAC meet. Senior Catherine Goger became Brearley's first female county champion in any sport by winning in javelin. She also finished second in discus at the UCIAC.
Not only did the girls track team make Brearley history with their division title, but they did by competing in "arguably one of the best counties in the entire country for track" with many athletes who compete at the New Jersey Meet of Champions coming from Union County year after year, Pitarresi said.
Goger (javelin, shotput, discus, long jump) and Maraya Watson (100m, 200m, 100m hurdles, triple jump) noted that the conference title was a long time coming.
"We've been working toward this with our coaches since freshman year," said Goger. "We worked hard this season, and the gears just seemed to click."
"Words cannot explain the amount of joy and excitement that we have," added Watson. "It's more than just a trophy to us. It's what we've been working toward for the last four years, and we did it as a family."
The bus ride home was followed by an impromptu celebration outside Brearley with cheers of joy, photos, videos, and pure excitement.
"The feelings and emotions were unbelievable. I told the team we could stay and celebrate as long as we wanted," Pitarresi said. "Those moments are few and far between, and they don't last forever, so we were going to enjoy it."
Courtesy photo