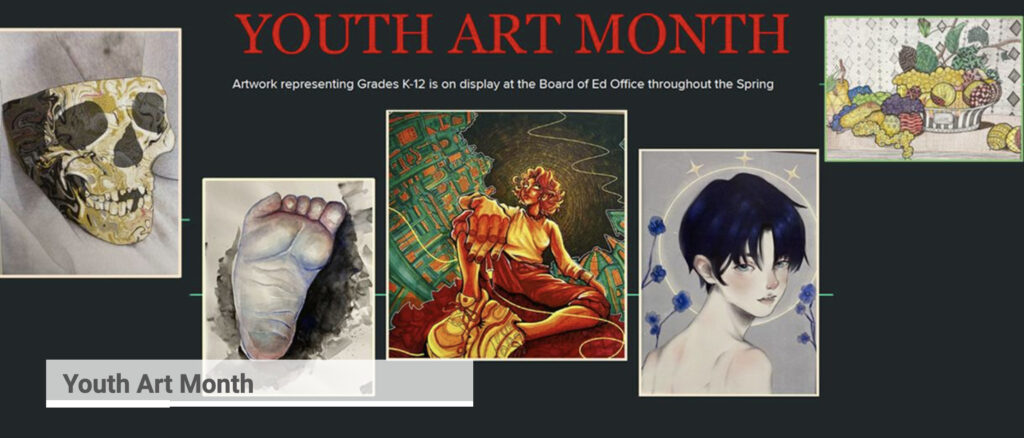 Youth Art Month
Submitted by Victoria Baum
Berkeley Heights Public Schools celebrated Youth Art Month with artwork from across all of our schools on display in the district offices through the spring.
Traditionally art shows, special exhibits, fundraisers, and school and community activities take place annually during the month of March to mark Youth Art Month to celebrate visual art education for grades K – 12.
This year, with the challenges of the pandemic, many young artists have had limited opportunities to publicly display their works. In an effort to celebrate our students' artistic successes this year, the Berkeley Heights art community has displayed many works created throughout the year at the BOE office.
In addition, Governor Livingston art teacher, Margaret Hodge, created a PowerPoint presentation to further assist and make viewing these beautiful pieces of art safe in a digitized format. That presentation may be found on the Berkeley Heights Public Schools homepage at bhpsnj.org.
Students from across the district have their work featured in the presentation and in the district offices. Participating Teachers & Schools include: Michelle Harpster, Mountain Park School and MKM ECC; Margaret Hodge, Governor Livingston High School; Jen Hanselman, Thomas P. Hughes and William Woodruff Schools; Neal Korn, Governor Livingston High School; Joseph Lanni, Columbia Middle School; Michael Maresca, Industrial Arts at Governor Livingston High School; and Daniel Guyton, Industrial Arts at Governor Livingston High School.