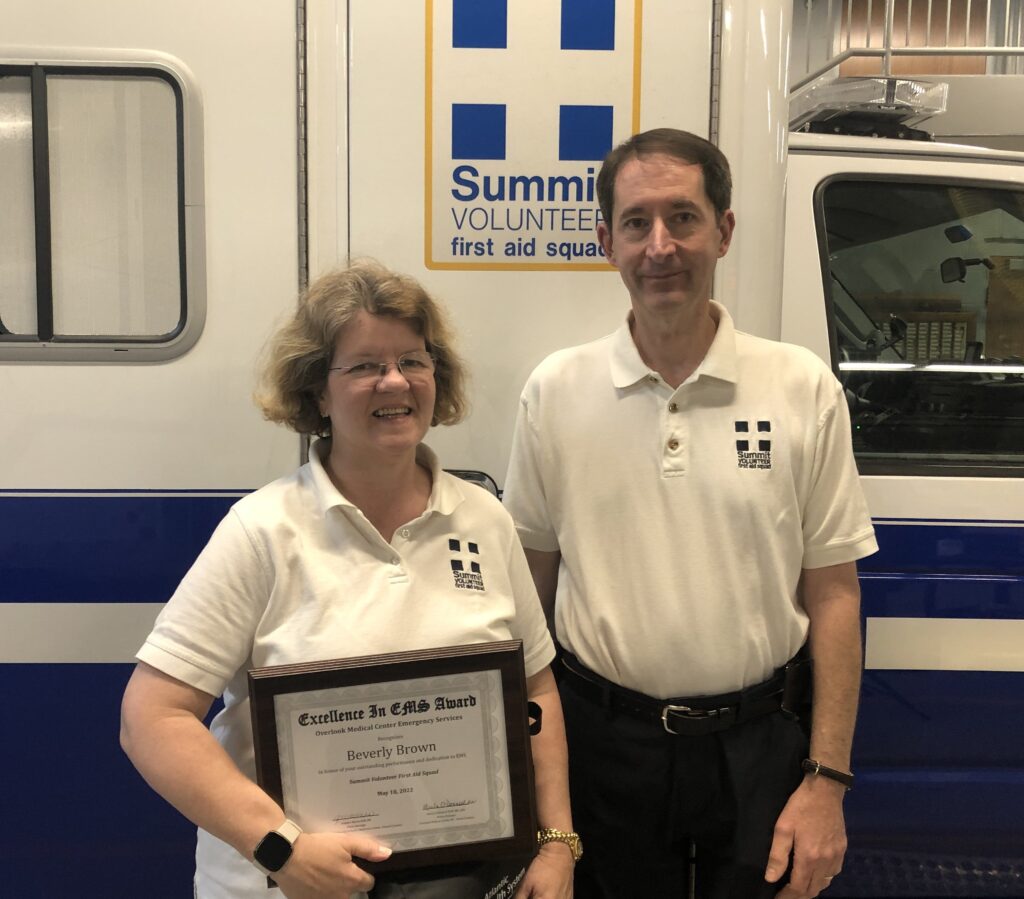 Beverly Brown Recognized for EMS Excellence
Beverly Brown, a long-time member of the Summit Volunteer First Aid Squad received the 2022 Excellence in EMS Award from Overlook Medical Center. An active member for nearly 40 years, Beverly joined the Squad as a Junior member while in high school, continued to serve the Squad while on school breaks during her college years and retuned as an adult member after graduation.
The Summit First Aid Squad has been a big part of Beverly's life. Both of her parents were long time Squad members, her husband also joined the Squad and their daughter served as a Junior member as well. Beverly has held numerous offices over the years including 3 years as Captain and is currently the Crew Chief of the Friday night shift. An experienced critical care nurse, Beverly also serves on the Squad's call review committee. During the pandemic, Beverly remained active and often stepped in to cover open shifts. She continues to serve on at least one, often two Saturday night shifts each month and is also one of our most frequent responders to back-up calls when we need a 2nd or 3rd crew. Beverly's commitment to the Summit Volunteer First Aid Squad epitomizes the dedication that has made our organization so successful. Beverly was nominated for the award by Summit First Aid Squad Chief Chief John Staunton.
The all-volunteer First Aid Squad, responds to emergency calls 24/7, is entirely funded through private donations and does not bill for service. The Squad is always looking for new volunteers to join its ranks. All needed training, uniforms and equipment is provided. For information on becoming a volunteer, or donating to the squad please call 908-277-9479, or visit summitems.org.
Courtesy Photo