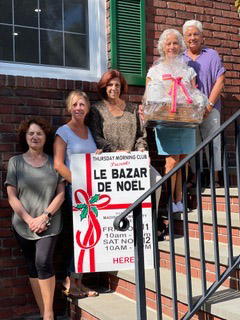 'Bazar de Noel'
Just in time for holiday shopping, special items for everyone on your holiday list and for yourself will be abundant at the Thursday Morning Club's festive 'Bazar de Noel' two-day holiday boutique from 10 a.m. to 5 p.m. on Friday, November 11 and 10 a.m. to 4 p.m. on Saturday, November 12 at the Madison Community House, 25 Cook Avenue.
The Bazar will feature many different exhibitors as well as prizes of theater tickets, gift cards, and gift certificates to popular local restaurants. It is the Club's major fund raising event of the year and proceeds provide funds for the Madison Community House, which is owned, operated, and supported by the Club.
La Patisserie, which has been a popular feature of every 'Bazar de Noel' (and this year's Bazar is the 42nd) will sell delicious quiches, cakes, breads, cookies, and homemade pies, perfect for your Thanksgiving dessert. Plus, the Club's catering department will offer a variety of homemade soups and sauces for sale.
Susan Packie and Jeannie Kosakowski, Bazar chairs, have selected exhibitors who will offer high quality unique classic and handmade items. Packie noted "with the special exhibitors, gift prizes and food items, the Bazar is a festive and fun shopping experience." Among the Bazar's holiday boutique selections will be Auriela Handbags, Compassion Fashion, Fennell Patch Arts, JoJo's bags and Things, Lemon and Lime Design, Pamela Cassidy Designs, Remy's Gems Jewelry, and Swarovski jewelry from Touchstone. A sample of the food items that will be available include flavored olive oils and vinegars from Seven Barrels, and local honey and a variety of sweet treats from Neshanic Valley Beekeepers.
Admission to the 'Bazar de Noel' is free. For information about the Bazar, please call 973-377-0244 or visit TMCMCH.org.
Organized in 1896, the Thursday Morning Club (TMC) is a member of both the New Jersey State and General Federation of Women's Clubs. The Club offers programs and services to support the community, and its Madison Community House provides a home for a five-day Preschool and Before and After School Child Care Program as well as a number of sports, recreation, and civic groups. If you would like to serve the community, make new friends, enjoy programs and activities, consider joining the Thursday Morning Club. For information about the Thursday Morning Club or membership, call the Community House at 973-377-0244 or visit TMCMCH.org.