Memorial Day Inspired by Cranford's 86
Submitted by Cranford 86 writers Don Sweeney & Janet Ashnault
While in the midst of a pandemic, and under strict regulations on all public gatherings as decreed by our governor, Memorial Day 2020 arrived. Memorial Day is an important event on our township's calendar. Cranford's steadfast dedication to its 99-year tradition of parade and ceremony has left an imprint on generations of its residents as to the true meaning of this special holiday. With the traditional events canceled, it seemed a daunting task to be able to conduct a day of respect equal to what is deserved by those young men who sacrificed their lives for our freedom. But out of the disappointment and confusion, creativity arose and what transpired was a pleasant surprise to everyone involved.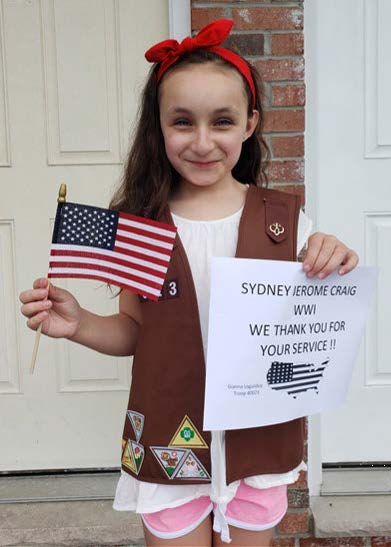 Under normal conditions, in our parade, Cranford Boy and Girl Scouts and First Aid Squad members carry 86 War Veteran flags, each representative of a fallen hero from Cranford. As a Boy Scout Troop 80 dad, Mayor Patrick Giblin noted his son's excitement each year to carry Newell Rodney Fiske's flag in the parade. Along with that task is the added responsibility to dip the flag when Newell's name is read during the post-parade ceremony. Living on Fiske Terrace, this had become an important family tradition and it appeared that it would be yet another thing disrupted due to the Covid-19 crisis. However, one week before Memorial Day, Mayor Giblin announced the "host-a-flag" initiative. Implemented using Facebook networking and SignUpGenius, the 86 flags were quickly signed-out by scouts and residents across town. On Friday they were available for pick-up at the Community Center. Each family was asked to honor their chosen serviceman by displaying the flag in a creative way and sharing their memorial display on social media. In keeping with the Cranford 86 mission of "see their faces" and "know their stories" each flag was attached with an envelope for the host family containing a brief history of their hero and a photo if available. Distribution of these 86 flags throughout our community became a new and innovative way to show respect to our Cranford 86. It was aptly described by Facebook commenter Annette Deering, "I can't think of a more fitting way to acknowledge & thank the Cranford 86. This showing of their flags today brings them back home into our neighborhoods, our minds & our hearts. From a most humble former Cranford resident, I thank you ALL for your service and pray to the Lord to bless you and our nation."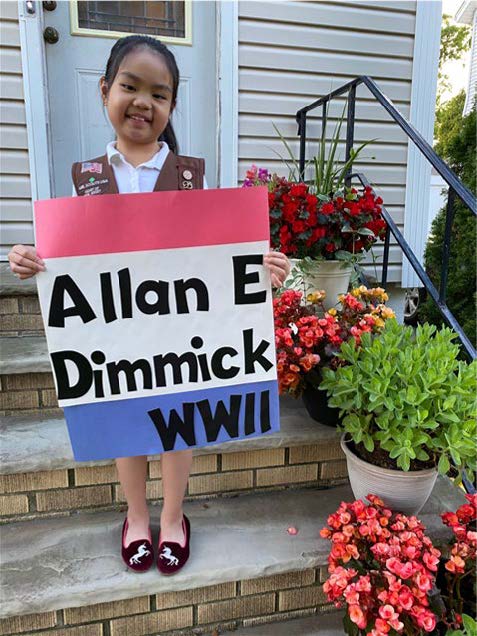 The success of the host-a-flag program went beyond everyone's expectations. Local Facebook pages overflowed with posts of beautiful flag displays. Residents showed creativity in their tributes with multi- framed information pages and custom-made signs and streamers. Each neighborhood became enlightened, and in some cases awakened, by the images and stories. These were young men that once walked these same streets, before heading off to war, never to return home to Cranford. The flags, which have been a staple in Cranford's Memorial Day observance for dozens of years, have found an expanded audience and an additional venue in which to be displayed. After hosting a flag, several families have decided to sponsor their serviceman's Cranford 86 street banner.
With the 86 flags in place throughout town, Cranford's official Memorial Day ceremony took place on Monday morning at Memorial Park on Springfield Ave. There were less than 10 participants, and no spectators, but it was broadcast live on TV35 and on Facebook. Despite the Covid-19 restrictions, VFW Commander Colonel Drew Burns conducted the program with the dignity and decorum that we have come to expect on Memorial Day in Cranford. After a short speech by State Senator Tom Kean, Mayor Pat Giblin acknowledged the six Cranford 86 members that were reintroduced this year in the Cranford Monthly. Post Chaplain James Silkensen offered an opening prayer before the names of the Cranford 86 were read by himself and Drew Burns. Wreaths were placed by the Cranford Police and Fire Departments and VFW Post 335, which will decorate the park's monument for months to follow. Mayor Giblin and Commander Burns tossed a wreath into the Rahway River in memory of the many Cranford 86 lost at sea. The ceremony ended with the color guard's impressive gun salute, Taps by Philip Schroeder and Amazing Grace by bagpiper Michael Glackin. As they have since the parade's inception, the always impressive, well-drilled color guard of the Cranford VFW closed the ceremony. This year instead of standing shoulder-to-shoulder, they were spaced appropriately and wearing masks. From beginning to end the ceremony was a concise 30 minutes and as always, conveyed the proper amount of respect due to our fallen servicemen. Between inclement weather and a global pandemic on Memorial Day, only 2 of the last five years have been celebrated in the conventional manner. Although the parade may sometimes get canceled, nothing prevents the conducting of this ceremony and the reading of the names of Cranford's 86.
Continuing Cranford's observance, the Cranford 86 street banners that have decorated Memorial Park since 2018 were put on display for the day. Numbering 27 so far, they swung gently in the breeze as passersby became acquainted with the faces of these men to whom we owe so much.
Another special moment occurred at 10 a.m. when 325 Cranford Girl Scouts at locations all around town, honored the Cranford 86 as they recited the Pledge of Allegiance. Each held a handmade poster featuring the name of one of our Cranford heroes and then sang God Bless America to neighborhood audiences.
The TV35 programming throughout the day included Cranford 86's dedication of the Hometown Heroes whose stories were completed this past year. These included, Vietnam Army Corp of Engineer Marcus Anderson, WWII Naval Cadet Harold Johnson, WWII Seaman First Class Friend Burton, WWII Gunner's Mate 2nd Class Patrick Castaldo, WWII Sergeant William Lee and WWII Sergeant Augustine D'Alessandris. These stories are available to be read online atCranford86.org or by purchasing a tribute book by calling the Cranford86 project at 908-272-0876.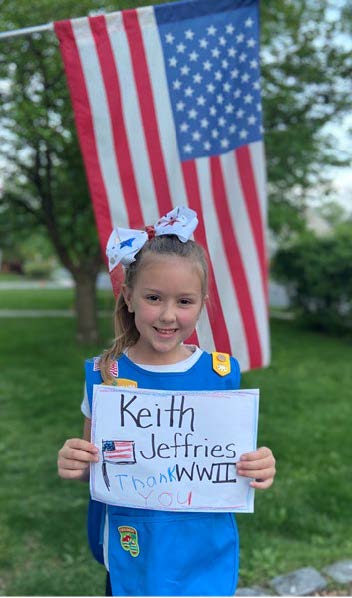 On the streets of Sunny Acres, our town's only official historic district, a masked, socially distanced mini parade was organized on Mohawk Drive. Some antique cars with a small group of Boy and Girl Scouts carrying Cranford 86 flags marched to recorded music to honor the brave heroes that we have lost. As they passed, neighbors waved from front yard gatherings of less than 25 people.
All in all, Cranford's Memorial Day commemoration of 2020 should go down in history as a complete success. Families that would have normally been out of town if Covid-19 restrictions weren't in place, hopefully have been introduced to Cranford's strong devotion to the traditions of this important day. We feel that hundreds of people learned of the Cranford 86 when they were touched by at least one display, photo, story or song which came from the outpouring of respect and gratitude shown in the various events of the weekend. We all should be immensely proud of our town of Cranford and the manner in which they honor the memory of our fallen heroes. What a great place to live.