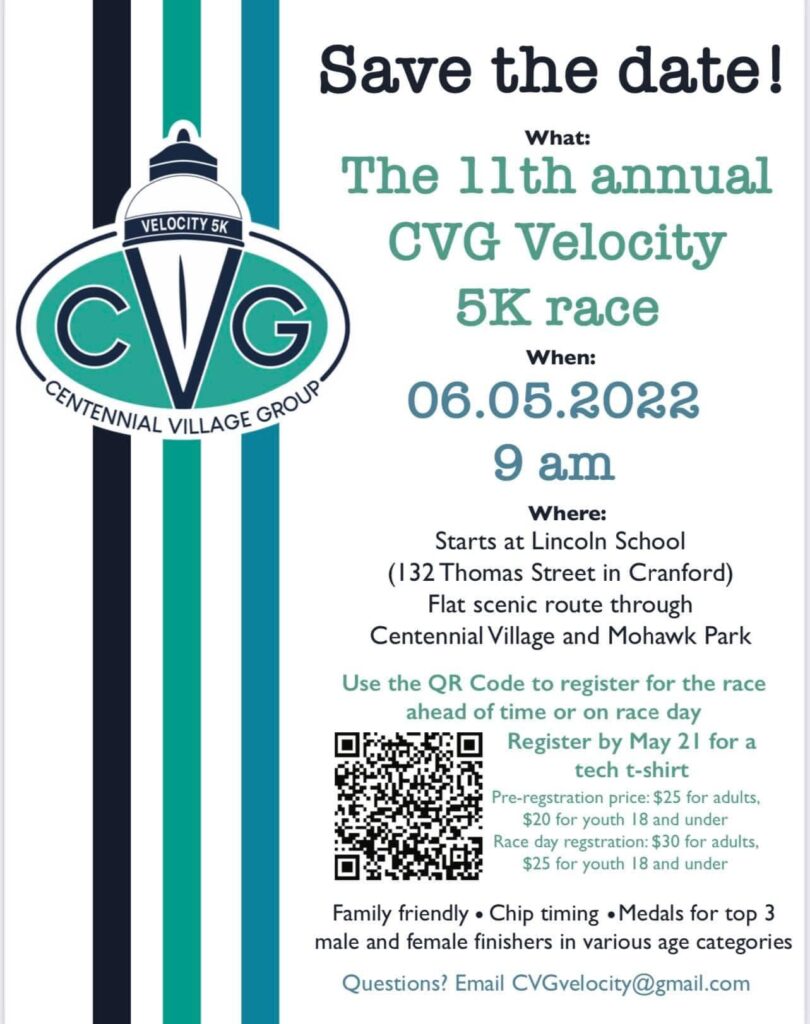 Centennial Village annual 5k race – June 5
The Centennial Village Group's annual 5k race will take place this year on Sunday, June 5. The chip-timed race will start at 9 a.m. The route provides a flat tour of part of Cranford's South Side, starting at Lincoln School on Centennial Avenue, and looping through Centennial Village and Mohawk Park. This family-friendly race invites all ages to come out and enjoy the views of Centennial Village. Family and friends are encouraged to cheer on the runners along the route.
The top three male and female runners overall will receive a prize and medals, and awards will be given to the top three males and females in the following age groups: 14 & under, 15-19, 20-29, 30-39, 40-49, 50-59, 60 and above.
Visit racenj.com to sign up or donate. Pre-registration is open until May 21, and costs $25 for adults and $20 for 18 and under. All pre-registrants will receive a tech t-shirt. After May 21, registration costs $30 for adults and $25 for youth.
Email cvgvelocity@gmail.com with any questions regarding the race.
The Centennial Village Group is made up of Cranford volunteers dedicated to the revitalization and beautification of the Centennial Avenue business district. In addition to the Velocity 5K Race, the Group holds various other community events, including a Bunny Hop to decorate Centennial Avenue with spring spirit, and an annual Music Fest to raise funds for its continual efforts to improve the community.