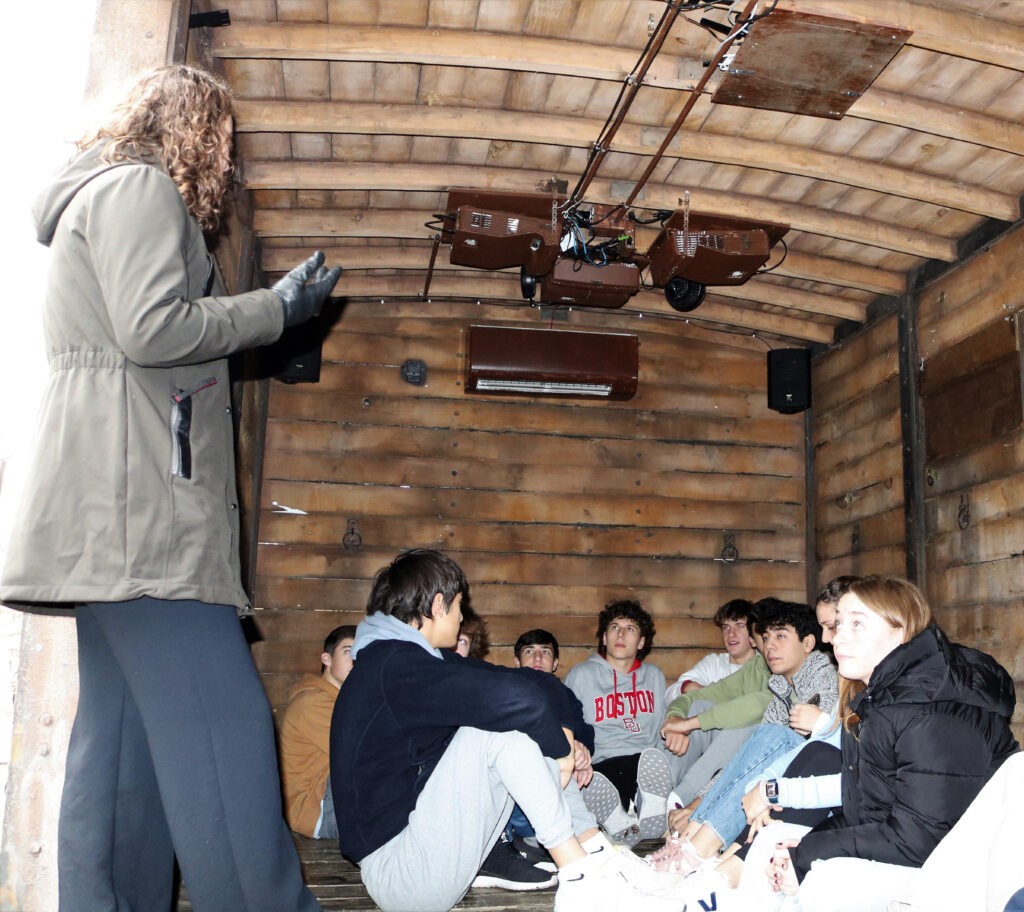 WHS Students Immersive Holocaust Exhibit
Westfield Public Schools
It is Period 5 at Westfield High School and students in an American Studies class are seated on the floor of a replica of a World War II cattle car as the door rolls shut. What begins in the darkness is a powerful immersive educational experience designed to help students better make connections to the history of the Holocaust and to encourage them to work together to fight discrimination and hate.
Entitled "Shadowlight: The Cattle Car – Stepping In and Out of Darkness", the traveling exhibit was set up on the high school's front lawn on December 6, with 11th and 12th graders in social studies and humanities classes cycling through the multimedia presentation during the school day. Other students and staff were invited to visit the cattle car exhibit in the afternoon.
"This experience had a profound impact on students and staff. I was fortunate to listen in on the discussions following the exhibit," says K-12 Supervisor of Social Studies Andrea Brennan. "Students asked interesting questions and provided their ideas about how to respond to hate today. They also discussed how social media platforms spread propaganda easily and have an immense impact on those that are targeted."
Inside, on the wooden flooring, are 100 sets of footprints, representing the approximately 100 Jewish men, women, and children who would have been packed into the cattle car, standing for as long as a week with a bucket of water and a few loaves of bread to barely sustain them in extreme heat or cold until disembarking at Auschwitz-Birkenau and other Nazi concentration camps.
The stories of Jewish suffering as told by Holocaust survivors accompany stark images projected onto the cattle car walls during the presentation. A generous donor provided funding to Temple Emanu-El of Westfield to bring the exhibit to the temple and the high school.
"This exhibit is so important to bring to our community, as Holocaust awareness is diminishing and Holocaust denial is increasing," says Rabbi Ethan Prosnit of Temple Emanu-El. "I'm so proud that the Westfield High School community was able to witness this exhibit and my hope is that it will inspire our students to promote a more tolerant and understanding community."
After leaving the cattle car, each class gathered in the high school library to discuss their feelings about the exhibit and to view genuine artifacts including published Nazi propaganda, Jewish identification cards, the yellow star that Jews were forced to wear throughout German-occupied Europe, and the uniforms worn by Jewish and other prisoners in Nazi concentration camps, often referred to as "the striped pyjamas."
"We are extremely grateful to Rabbi Prosnit and Temple Emanu-El for sharing this incredible educational experience with our students," says Westfield Public Schools Superintendent Dr. Raymond González. "The immersive nature of the exhibit expands on the district's Holocaust curriculum, giving our students the chance to hear from Holocaust survivors and to better understand the horrors and suffering that took place."
On December 2, the "No Place for Hate" Committee at Westfield High School conducted a schoolwide signing of a Pledge Against Hate, with students, staff, administrators, and members of the Board of Education sharing the ways they are committed to living the pledge every day.
Photos by Westfield Public Schools