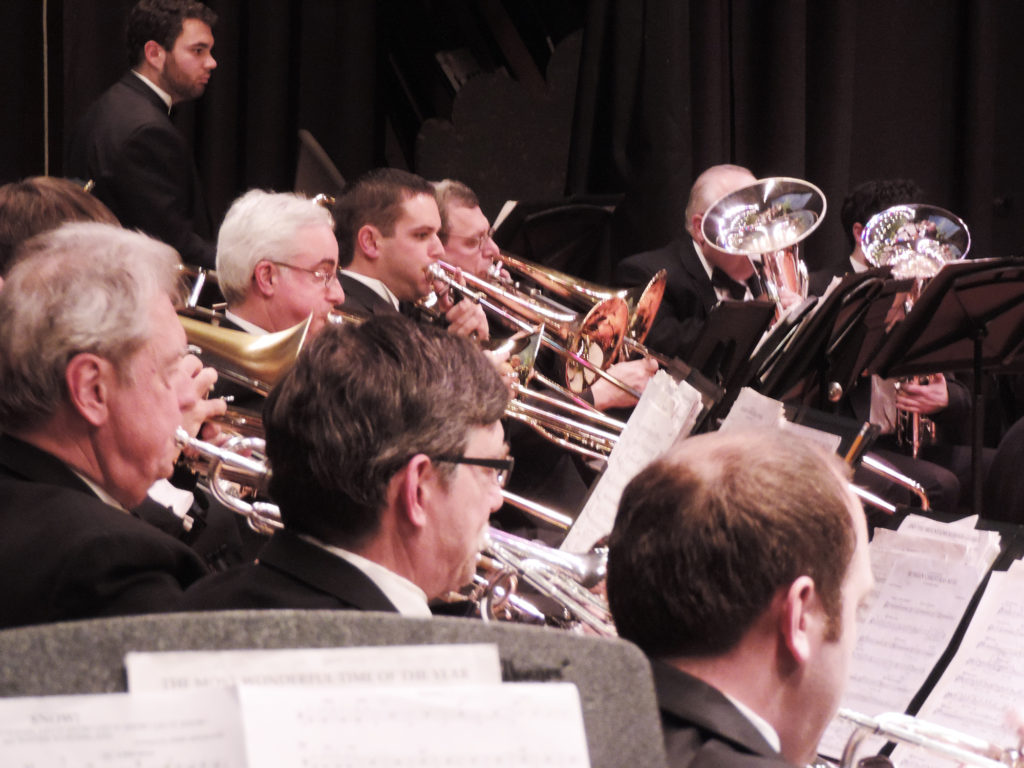 The Westfield Recreation Department will host its 27th Annual Holiday Concert featuring the Westfield Community Concert Band and the Edison Intermediate School Broadway Singers on Friday, December 8, 2017 at 7:30 p.m. at a special venue, Westfield High School in Westfield. This free public concert culminates a year-long series of performances by the Westfield Community Concert Band in celebration of the band's 105th anniversary concert season. The band performed its first annual Holiday Concert at the Roosevelt Intermediate School in December 1990 with the Roosevelt "Sharps and Flats" chorus.
Highlighting a program of holiday favorites, the band will perform John Wasson's setting of Jingle Bells, the renowned 1857 composition by James Pierpont. The words and music were written for a Thanksgiving program at Pierpont's church in Boston. Originally entitled "One Horse Open Sleigh", it was so well received that the children were asked to repeat it for another performance at Christmas. It has been a famous Christmas song ever since.
The band's program all includes, Twas in the Moon of Wintertime, a contemporary arrangement by Robert Smith of what is considered the earliest Christmas carol written in North America, Shalom!, by Philip Sparke, Snow!, by Jerry Brubaker, and Christmas Variations, by Roland Kernan. The band will also perform an arrangement of Albert Hague's popular score for the 1966 animated classic How the Grinch Stole Christmas, and Leroy Anderson's holiday standard, A Christmas Festival, written in 1950 for the Boston Pops.
The Broadway Singers will also perform a selection of holiday music featuring the choir's unique arrangements and choreography, including Here Comes Santa Claus, Kindle the Lights of Hanukkah, Have Yourself a Merry Little Christmas, Little Saint Nick and Let It Snow!.
The program will conclude with a combined performance of Irving Berlin's "White Christmas" with both the band and choir, an annual tradition dating back more than twenty-five years.
The Westfield Community Concert Band is conducted by Dr. Thomas Connors, now in his eleventh season with the band. Westfield music educators Kenneth Horn and Stephen Markowski, vocal specialists in the Westfield School District, co-direct the Edison Broadway Singers.
Members of the Westfield Community Concert Band recently participated in Westfield's Holiday Tree Lighting event, performing traditional Christmas music as a festive backdrop for the lighting of the Christmas tree at the north side Westfield train station along with a special appearance by Santa and Mrs. Claus for hundreds of families in attendance. As the band completes its milestone 105th concert season, the band continues to seek out area musicians to perform a wide variety of concert band literature for its many area concert events. Interested musicians should contact Dr. Connors through the band's website, info@westfieldcommunityband.com. The band rehearses each Wednesday evening from 7:15 p.m. to 9:30 p.m. in the community room located in the Westfield Municipal Building 425 East Broad Street.