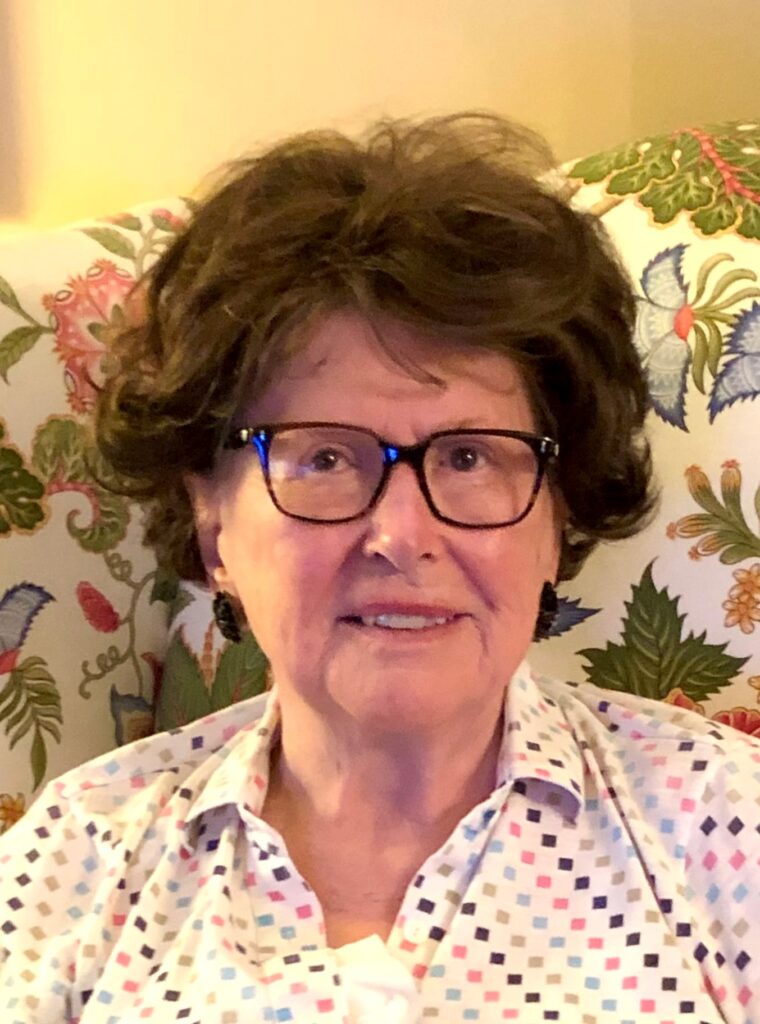 Clara "Chic" Bolger – Miller-Cory House Museum Founder
The Westfield Historical Society
Clara Bolger, known as "Chic" to her family and friends, was born and raised in the Bronx, the only child of a local school teacher and a NYC Police Inspector. After graduating from Bucknell in 1947 as a psychology and sociology major, she moved to NY and took a job with the Vick Chemical Company. There she met William Bolger, whom she married in 1951; they moved to Westfield several years later. While raising their three daughters in Westfield, Clara became involved in many civic activities, among which were serving as a speechwriter for Robert Mulreaney (Mayor of Westfield from 1965-68) and doing volunteer work for the Westfield Service League, the NJ League of Women Voters and the Friends of the Westfield Memorial Library. However, most of us would agree that Clara's most significant work was as a founder of the Miller-Cory House Museum. This year, 2022, is the 50th anniversary of the Miller-Cory House Museum, so it seems only fitting that Clara Bolger be honored today. If it weren't for Clara, Westfield would not have the Miller-Cory House Museum to be celebrating!
Clara had gone to an historic house tour in a neighboring town and was not impressed, feeling that Westfield could do it better. The Westfield Service League sponsored a well-attended tour of historic homes in Westfield and the Jones House was on the tour. Through that, she met and became good friends with Donald and Isabel Jones. When they decided to move, knowing that Clara loved the house, they contacted her to see if she wanted to buy it. Having recently finished a big renovation to their Tremont Avenue house, Bill responded with an emphatic "No". Instead, she had the idea of turning the house into a living museum. And so the journey began.
As Clara was well known in town, she was able to reach out to people who could help the dream become a reality. One of her meetings was with several past mayors – Bob Mulreaney, Emerson Thomas, Charles Bailey – and with a potential financial resource, the Wallace Foundation. The mayors became believers (even if some were reticent), and soon the Citizen's Committee to Preserve the Miller-Cory House was formed, including Trustees of the then small and fairly inactive Westfield Historical Society, who provided the museum with its non-profit status. As Clara tells the story, she received a call from Betty Pate at 11:30 one night – "You don't know me, but you need me" – and their partnership and great friendship were quickly established. Betty Pate is also a Westfield Hall of Fame member recognized for her tireless efforts on behalf of Westfield, Union County and New Jersey history.
Fundraising to purchase the house was critical, as was getting many people on board with the overall idea. While large individual donations and grants from foundations provided the bulk of the funds, several of the grassroots fundraising ideas and events increased visibility and support from the community. Cherry Pie Socials – to host and attend – became all the rage. The merchants down town agreed to have the streets closed to cars so that activity booths could be set up. The booths educated and demonstrated crafts, cooking and skills of the 1740s. These same booth ideas became the programming for the Miller-Cory House. The merchants found the day to be very successful and the "Fall Festival" was started. A Volunteer Committee was established and run primarily by Clara. Her contacts and the fundraisers brought in any interested volunteers while Betty trained and educated the docents. Betty insisted on authenticity. Clara knew about programs and education in Williamsburg and Sturbridge Village to achieve that goal and set up field trips for the volunteers. It took a village to create a robust, volunteer-led Miller-Cory house Museum. But it was Clara who brought it from a dream and a house – to a living museum!
Clara was always interested in the world around her. She had great concern for and openness to other people and maintained deep friendships with her closest friends. She was spirited and great fun, and many of us still treasure her uproarious laughter. Seeking warmer weather and appreciating the history of the area, Clara and Bill retired to Williamsburg, VA in their later years. There she continued to pursue her interest in American Colonial history and continued to show her concern for others through volunteer work at the Bruton Parish Church in Williamsburg and marching with her daughters in support of women's reproductive rights in Washington, DC. Although Clara turned 95 on April 20, 2020, when COVID cases were climbing, this did not stop her quest for fun. She had a birthday party on Zoom with her three daughters who live in New York and Scotland. Even in her final days she was a real adventurer with a fantastic spirit, and those who knew her will always remember her as an intrepid woman ahead of her time.
The Westfield Hall of Fame is a Committee of The Westfield Historical Society which has named nine inductees for the 2022 Hall of Fame Class. In addition to Clara "Chic" Bolger, they are Allen Chin, Samuel Downer Sr., Ralph Jones, Charles R. Morrison Sr., James & Melba Nixon, Nancy Priest, Theodore K. Schlosberg, and Mabel L. Sturgis with Helen French Welch. The Hall of Fame Committee has a long list of qualified candidates submitted by the public for its consideration in future inductions. The 13 members of the 2022 Hall of Fame selection committee are planning the induction ceremony for October 7, 2022. Historical Society members and the public at large are encouraged to submit profiles of persons believed to be strong candidates for the Westfield Hall of Fame to the Westfield Historical Society, P. O. Box 613, Westfield, NJ 07091.