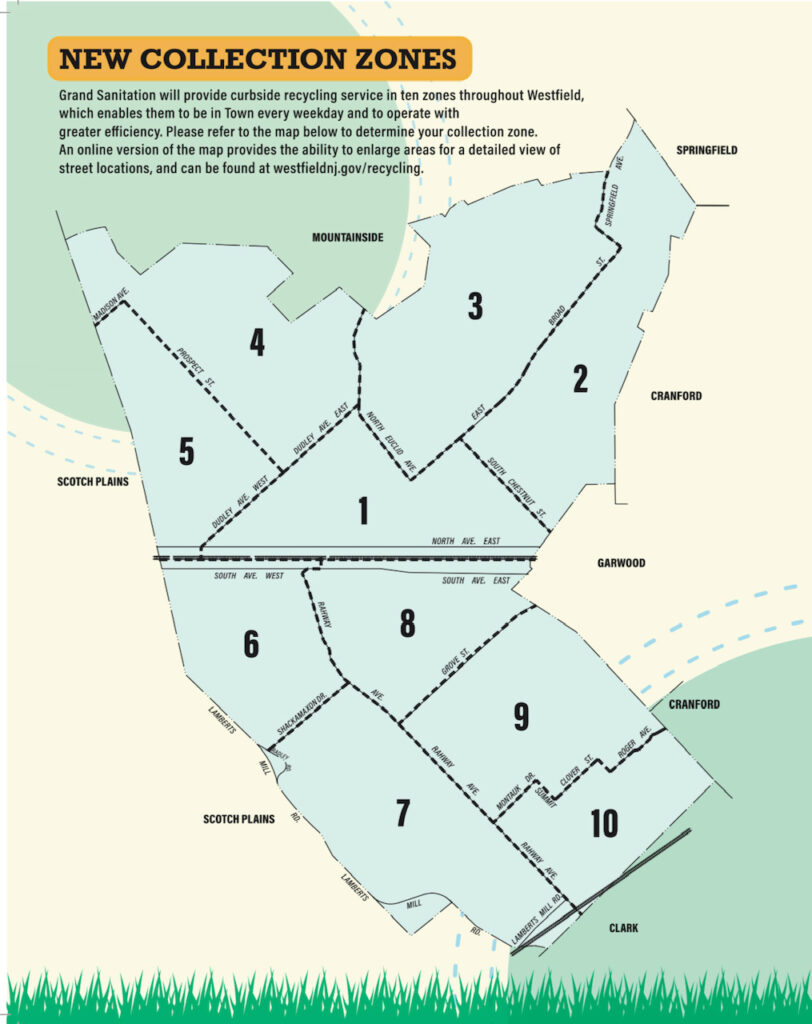 Westfield Curbside Recycling Changes for 2021
The Town of Westfield has contracted with Grand Sanitation Services to provide curbside recycling pickup in 2021. While service will remain on a biweekly basis, residents are advised that the collection zones and schedules have changed.

WHAT'S CHANGING
▪Service Provider: Grand Sanitation will begin curbside service in 2021. Their customer service number is 908-222-1566, and their email iswestfieldrecycles@grandsanitation.com.

Collection Zones: Grand Sanitation will utilize ten collection zones in Town. Residents should refer to the map in the upcoming mailer to determine their correct zone. An online version of the map provides the ability to zoom in for a detailed view of street locations.

Collection Schedule: Assigned collection days may differ from previous years for some households. Residents are encouraged to view the updated schedule to avoid missing a pickup. Curbside collection begins in Zone 1 on January 4.

WHAT'S NOT CHANGING
Acceptable Materials and Guidelines: There are no changes to what can be placed curbside.

Biweekly Collection: Although collection days have changed for some households, service will remain on a biweekly basis.

Residents are also reminded of the recycling opportunities available at the Conservation Center. The following items can be dropped off free of charge, with no permit required:
Curbside recycling items
Fluorescent light bulbs
Household alkaline batteries
Plastic bags
Styrofoam
Scrap metal
Household electronics
Clothing/shoes
Christmas trees
Other free drop-off programs at the Center are offered as availability permits, with updated information posted at westfieldnj.gov/conservation. These include tennis balls, wine corks, plastic toys, and food waste. In addition, fee-based options are available for mattresses and bulk waste. The Conservation Center will begin its seasonal hours on January 2 from 9:00 – 3:00 each Saturday in January.

For full information on curbside recycling, visit westfieldnj.gov/recycling.