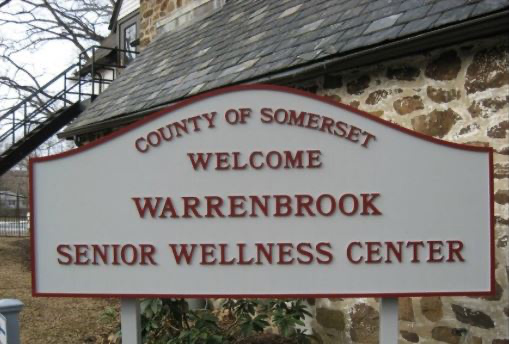 Warrenbrook Senior Center September 2023
Warrenbrook Senior Center, located at 500 Warrenville Road, Warren, NJ, is one of the six county operated Senior Center. Somerset County residents who are 60 years and older are welcome to participate in any of the programs at Warrenbrook Senior Center. They also provide a choice of 4 different meal choices during lunch that seniors can take advantage of during the weekdays. All the programs are free for the registered members. Please call (908) 753-9440 for more information on how to become member of the Warrenbrook Senior Community.
Below is the highlight of some of the programs available at Warrenbrook Senior Center in September.
September 6, 11 a.m. – Senior Medicare Patrol – Joel Schneider from Senior Medicare Patrol will teach us how to protect ourselves from Medicare Fraud, waste and abuse.
September 7,14, 11 a.m. – Basic Computer and iPad Instruction with Parul. In this basic computer learning class, the topics that will be covered will vary every week and will depend on the needs of the clients. Some of the topics will be checking the email, opening/attaching the attachments, clearing the cache, creating word documents. Please call (908) 753-9440 for more information.
September 8, 29, 11 a.m. – Brains n Games and Hand Bells with Adrienne Graubard. Did you know that solving puzzles or challenging yourself with new mind-stretching activities like learning music can stimulate the brain and enhance your creative and critical thinking processes? Join Adrienne for some mind-tingling, brain-stumping word games and a fun-filled musical workout using hand bells.
September 8, 1 p.m. – Physical Therapy Screenings –Nicholas Matthes from Trinity Rehabilitation Center of Warren will provide 10-minute Physical Therapy Screenings to the registered clients. To sign up and for information please call (908) 753-9440
September 11, 10:30 a.m. – Blood Pressure & Cholesterol – Flu Shots – Both high cholesterol and high blood pressure are well-known risk factors for stroke and heart attacks. Shivani Shah from Walmart Pharmacy will be talking about what is cholesterol/Blood Pressure and how it affects the overall body, what to watch out for to control the cholesterol and the importance of vaccines.
September 13 – 11 a.m. –Volunteer Recognition Celebration. Where would we be without our incredible team of volunteers? Our volunteers help us every day by assisting at the front desk, helping to pack and serve lunches for hundreds of seniors, and leading our wide variety of programs. Let's take today to give a well-deserved Thank You to our wonderful volunteers and enjoy the music of Gordon James who will sing the songs from 50s & 60s.
September 15, 11 a.m. – Recycled Craft – by Debbie Perez, a local artist & designer who specializes in creating one of a kind, nature-inspired items by using upcycled items to create a unique, beautiful, mandala. All materials will be provided. PRE-REGISTRATION REQUIRED.
September 15, 1 p.m. – Soccer Game – To celebrate the participation of Warrenbrook Senior client's family in FIFA World Cup 2023, we will be playing the indoor senior soccer games. Be prepared to toss the ball around and make some goals.
September 18 – 11 a.m.– Food too Good to Waste by Jennifer Korneski, Rutgers Cooperative Extension. It's startling to know the quantity of food wasted/thrown out in the United States. According to the FDA, food waste is estimated at between 30-40 percent of the food supply at a cost of more than $161 billion. Food is the single largest category of material placed in municipal landfills and represents wasted nourishment that could have helped feed families in need across the country and in our own communities, Additionally, water, energy, and labor used to produce wasted food could have been employed for other purposes. Effectively reducing food waste will require cooperation among federal, state, tribal, and local governments, faith-based institutions, environmental organizations, communities, consumers, and the entire supply chain. Jennifer will introduce us to simple, yet effective ways we can start as individuals to becoming smarter with food consumption and effective waste management. Every little bit of change can make a difference.
September 20 – 11 a.m. – Lighthouses of New Jersey by Marilyn Dunning & Alan Jacobson, New Jersey Lighthouse Society. Marilyn and Alan will provide details on the history, structure, and characteristics of lighthouses. They will also discuss topics such as keepers, governance, purpose, and how weather affects lighthouses. Historical facts about New Jersey beacons and keepers who were women will be highlighted.
September 21, 11 a.m. – Jeopardy with Angela – Join us as we play Jeopardy where the Categories include Animals, Country, Food, & Fruits.
September 25, 11 a.m. – Musical Performance – Sing along with Paul Elwood, and revisit your favorite songs from the 50s, 60s, and 70s. Wear your dancing shoes!
September 27 – 11 a.m. – Bingo with Rashmi – Bingo is more than just an exciting activity. Researchers have found that playing Bingo has multiple benefits such as promoting socialization, strengthening hand-eye coordination, and improving concentration, listening and short-term memory, all with a little bit of friendly competition!
September 28, 11 a.m. – Armchair Travels to Germanywith Maritza – Germany! One of the most charming and varied countries in Europe with gorgeous half-timbered towns, spirit-lifting culture and bewitching rural scenery. We will be watching Germany from the above, German folk music, Oktoberfest Accordion Music & playing trivia.