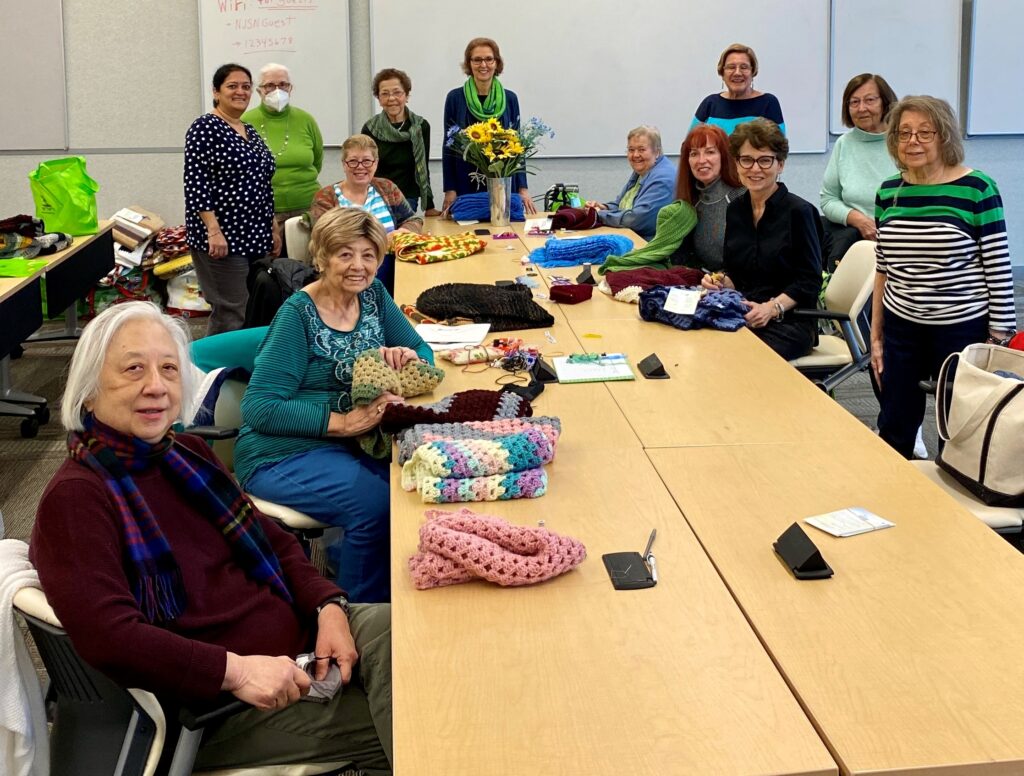 Volunteers Show Love and Support
NJ Sharing Network
National Volunteer Week, held in April, is an opportunity to thank all volunteers who dedicate their time and talent to help others. Locally, dozens of volunteers from throughout New Jersey recently crocheted and knitted over 900 shawls and blankets to express love and support for families of deceased organ and tissue donors. Their caring efforts are part of NJ Sharing Network's Wrapped in Love Program.
A team of volunteers came together at NJ Sharing Network's headquarters in New Providence to package the donations and add personalized messages of support before distributing to organ and tissue donor families.
Marilyn Esnes of Berkeley Heights is a NJ Sharing Network Wrapped in Love volunteer who understands the positive impact a handmade shawl or blanket can bring to donor families.
"As the caregiver of a lung transplant recipient, my husband, I understand the difficult decision a loved one must make to give the gift of life to others," said Esnes. "At the time I was sitting in the waiting room at the hospital for my husband's life-saving transplant, I kept thinking of my husband and praying for the medical staff but also for the donor family. While I was very worried and scared, I thought of the family who made that decision to donate organs and what they were going through. My heart ached for them and what they must have been going through. I was so appreciative of their generosity and love. When I learned of NJ Sharing Network's Wrapped in Love Program, I volunteered right away to help alleviate someone's pain."
Carolyn Welsh, Vice President and Chief Operating Officer of NJ Sharing Network, is inspired by the overwhelming expressions of support of NJ Sharing Network's volunteers.
"We applaud the compassionate efforts of ourWrapped in Love volunteers who selflessly offer their time and talent to support donor families," said Welsh. "Our volunteers continue to provide comfort to families after suffering the loss of a loved one when it is needed most."
For more information about NJ Sharing Network'sWrapped in Love Program, please call 908-516-5687 or email lcolasurdo@njsharingnetwork.org.
Currently, there are over 100,000 Americans – nearly 4,000 of whom live in New Jersey – waiting for a life-saving transplant, according to United Network for Organ Sharing (UNOS). One organ and tissue donor can save eight lives and enhance the lives of over 75 others.
New Jersey's caring spirit is providing hope for the future. According to NJ Sharing Network, last year, 233 generous individuals in New Jersey gave the gift of life, an all-time high for a single year. In addition, 42,112 eye and tissue donations healed and enhanced the quality of life for those in need.
Organ and tissue donor registrations in the Garden State continue to increase thanks to strong community education and outreach efforts and expanded ways to register. New Jersey donor registration jumped 8.3% in 2021, and the state ranks 5th in the nation on the Donate Life America National Registry. New Jerseyans can register in any of the following options:Online at www.NJSharingNetwork.org/Register; through the iPhone Health App; In person at your local Motor Vehicle Agency.
To learn more, get involved and register as an organ and tissue donor, visitNJSharingNetwork.org.
About NJ Sharing Network
Currently celebrating its 35th anniversary, NJ Sharing Network is the federally designated non-profit organization responsible for recovering donated organs and tissue and providing hope for those waiting for a life-saving transplant. With headquarters in New Providence, NJ, NJ Sharing Network has been recognized by NJBIZ as one of the state's "Best Places to Work" for four consecutive years.