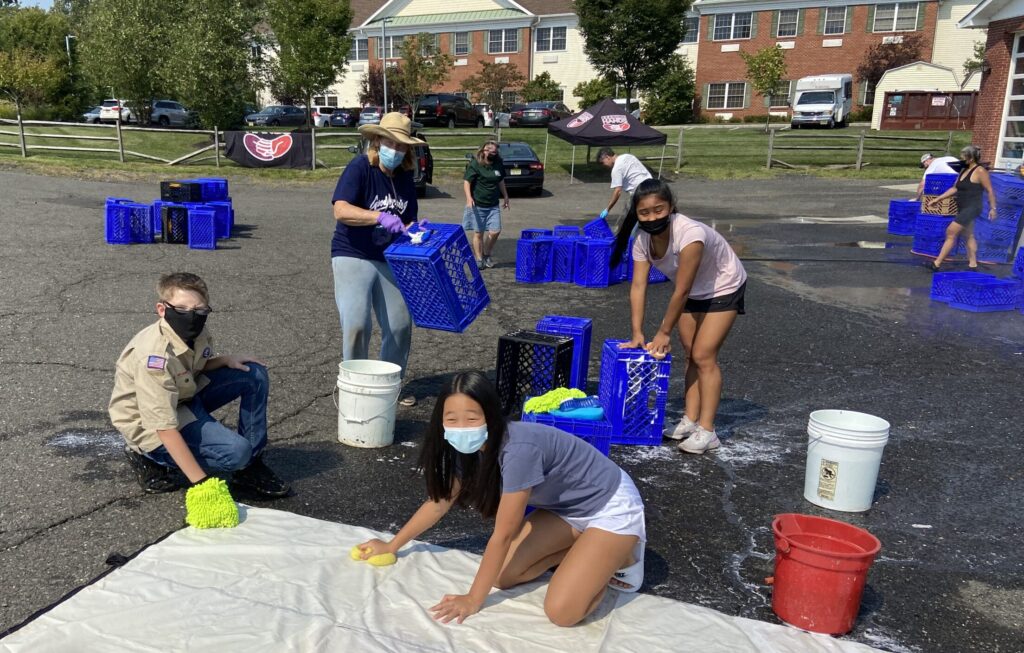 Volunteers Help Feeding Hands Food Pantry
Warren Township
When Tropical Storm Ida tore through Somerset County, it left serious devastation to the Feeding Hands Food Pantry. Two of their distribution centers, including one in Raritan, took in several feet of water destroying everything inside.
Sadly, the Feeding Hands Food Pantry threw out roughly 25 tons of food–at least $100,000 worth, and lost all 12 of their refrigeration units along with a delivery truck. In the past year, Feeding Hands has helped approximately 650 families by distributing more than $1,000,000 worth of food.
On Sunday afternoon, September 12, thanks to the coordination of Fire Chief Mark Russo, a dedicated group of volunteers met at Mount Bethel Volunteer Fire Company to clean a truck filled with muddy items that were salvaged from the floodwaters. It was hard, dirty work but the volunteers never gave up. All of the items were thoroughly cleaned, sanitized, and loaded back into the truck allowing Feeding Hands to reopen to assist their families in need.
The Warren Township Committee would like to extend their sincere appreciation to Warren Township Office of Emergency Management (OEM) Coordinator, Jane Asch, Fire Chief Mark Russo, and the following volunteers: Priscilla Emmanuel, Samantha Emmanuel, Jack McCullen, Jerrold Zeitels, Susan Hatfield, Tony Asch, Andy Asch, Dave Santoro, Leslie Santoro, Chloe Tu, Yee Jao, Christopher Stewart, Chloe Chua, and John Zoephel.
Even through their own hardship, Feeding Hands has still been able to distribute food to their guests on their regular service days.
If you would like to help Feeding Hands replace their refrigeration units and other necessary equipment, please go to feedinghandspantry.org to make a donation. Every dollar donated equates to $6 of groceries for families in need.
The Warren Township OEM and Police Department are collecting $25 gift certificates for ShopRite, Walgreens, and Target. Please drop off gift cards to the Warren Township Police Department.