One District, Three Schools – So Much Talent!
Submitted by Akua Boakye
The students and teachers at Kawameeh Middle School, Burnet Middle School, and Union High School united this spring to showcase the great artistry of students at the Second Annual United Poetry Slam.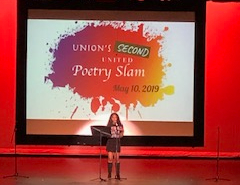 Over forty students participated in total, including two student hosts from Union High School, thirty student poets, six "live artists" who created art on stage in front of the audience, and about ten student volunteers who helped to run the event.
The event was created to unite the three schools and provide an opportunity for student expression. Committee member and ELA teacher at KMS, Mrs. Jennifer McCartney, said "It is incredibly important for students to have an outlet to express themselves. Poetry is a way for all students to express their dreams, speak out against injustice, or simply let the world know their thoughts. Often they feel like no one is listening; poetry gives them a voice, and this event lets their voices be heard."
The students were thrilled to be a part of the event. They were moved by their peers' engagement and applause, and emboldened by their chance to share their poems with the world. Also featured was a "gallery walk" of images and poetry created by students who did not perform. The art created by the live artists were later auctioned off in a silent auction.
All proceeds from the event and the silent auction of the live-created artwork benefited the Community FoodBank of NJ in Hillside, where every $1 provides up to three meals.