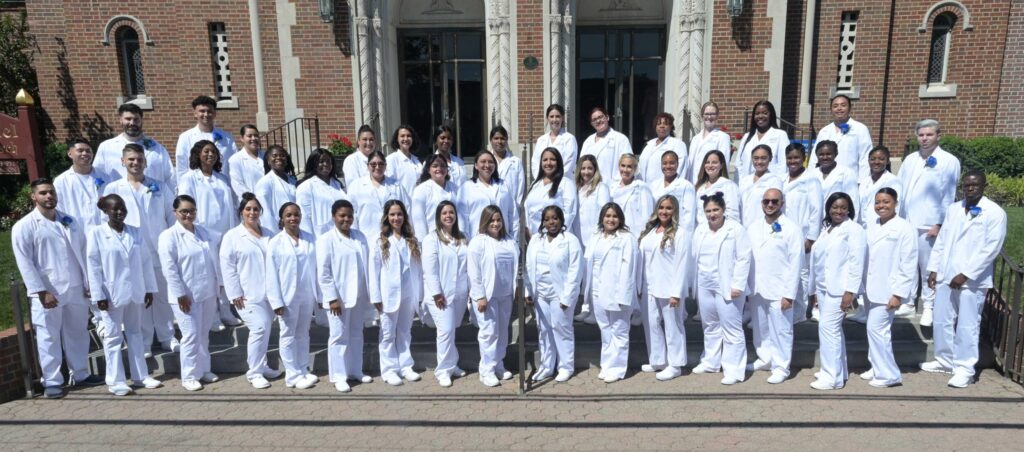 School of Nursing Celebrates Graduates 
Trinitas Regional Medical Center's School of Nursing recently celebrated 49 graduates at its 168th commencement ceremony. Included were Union residents Myriam F. Dessources, and Wanda Duchard.
The graduation ceremony featured a traditional pinning ceremony that symbolizes a rite of passage into the professional world of nursing and the nurse's commitment to those they care for.
While nursing school is uniquely challenging for all who enroll, the students that made up Trinitas Regional Medical Center's School of Nursing class of 2022 faced unprecedented challenges throughout their two-and-a-half year nursing school journeys which started in January 2020 just prior to the COVID-19 pandemic. During that time the students navigated multiple challenges with resilience including transitioning between remote and in-person learning multiple times, adhering to safety protocols including smaller clinical groups, social distancing, mandatory masking and face shields, COVID screening, weekly COVID testing and relocating on campus after Hurricane Ida flooded the Trinitas School of Nursing educational center on the Union County College Campus. Additionally, nursing students in the class of 2022 participated in vaccination efforts with supervision from faculty, administering some of the first COVID vaccines to the community.
"It is my pleasure to congratulate the Trinitas School of Nursing Class of 2022," said Gary S. Horan, FACHE, President & Chief Executive Officer, Trinitas Regional Medical Center, an RWJBarnabas Health facility. "The past two and a half years have been unexpected and unforgettable, but our nursing students rose to every challenge they were faced with. We are very proud of students as well as our faculty and staff, for doing this important work during a very challenging situation, all while keeping with the mission of Trinitas Regional Medical Center upholding a commitment to providing high-quality care to a diverse population."
Established in 1891,the Trinitas School of Nursing is fully accredited by the Accreditation Commission for Nursing Education, Inc. and the New Jersey State Board of Nursing. In 1971, the school made a commitment to serve educationally disadvantaged students, the non-traditional, and those seeking a second career and/or career mobility. This commitment resulted in the formation of a Cooperative Nursing Program (CNP) in partnership with Union County College, which allows students in the CNP to graduate with a Diploma in Nursing from Trinitas School of Nursing and an Associates in Science from Union County College. Upon graduation, all students are also eligible to sit for the National Council Licensing Examination for Registered Nurse Licensure. (NCLEX). For more visit trinitasschoolofnursing.org.
Photo by Grace Photography