Union High School Performing Arts Company Presents The Disney Classic "Mary Poppins" March 10-13; 18-20, 2016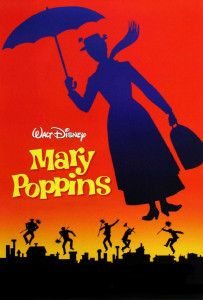 Union High School Performing Arts Company Presents Disney's Mary Poppins, the beloved classic of a spirited nanny who helps bring the he
art back to the Banks Family whom she looks after. The Academy Award winning film starting Julie Andrews and Dick Van Dyke, transferred to the Broadway stage in 2006; and has been warming the hearts of fans for many years. Featuring classic songs such as "Jolly Holiday," "Step in Time," "Supercalifragilisticexpialidocious," "Chim Chim Cher-ee," and "Let's Go Fly a Kite," don't miss your chance to see the magic Mary Poppins brings live on the UHSPAC stage. Opening Thursday, March 10th, Mary Poppins at UHS will run the 10th, 11th, 12th, 18th, and 19th at 7:30pm; and March 13th and 20th at 2pm. Student pricing will be available to all Township of Union Students with a valid Union Township ID, tickets will be available to them for $10 at any performance, purchased in person. A group rate of $12 will be available for sale to groups of ten or more sold for any one single performance. Head on over to www.uhspac.com for more information and to purchase tickets.Mary Poppins is not only filled with iconic songs, but tells a story that is sure to relate to audiences everywhere. When Mary Poppins first visits the Banks household, there seems to be a disconnect between the members of the Banks Family. Mary finds a way, through very inventive techniques to help teach not only the children invaluable lessons, but their parents as well, especially their father George who seems preoccupied with work rather than his family. In the end, it's George that Mary saves, allowing him to once again be a great father and husband bringing warmth back into their home. Director James Mosser shared: "Mary Poppins is about more than just wonderful songs and amazing spectacle. The show carries with it some wonderful messages of structure, caring, hard work, imagination and love. This magical nanny arrives to help rehabilitate a family who has lost their way. While the children's behavior is the symptom of the dysfunction the cause is deeper. Mary Poppins teaches the whole family how to do the right things and follow their dreams in the process."
The cast features Ashley Figueiredo as Mary Poppins, Jonathan Duvelson as the fun loving Bert, Joseph Laurino Jr. as George Banks, Grace Rivera as Winifred Banks; and sharing the role of Jane and Michael respectively are Gabriella Scott, Leilani Wiggins, Jaden Foreman, and Connor Van Tine. As with any UHSPAC productions you can expect a supporting cast of singers and dancers sure to make you want to jump out your seat and dance along to some of Disney's most classic songs.
The Union High School Performing Arts Company continues to remain one of the strongest arts training programs for high school students in the state of New Jersey. The UHSPAC is inclusive of an award winning theater department, a nationally rated instrumental music program, and a top-notch choral music group. The Theater Department has been nominated for over 104 prestigious Paper Mill Rising Star Awards, an event that recognizes excellence in high school theater, similar to the Tony Awards. They have won 27 awards and currently hold the record for the most wins ever won by a single show for their 2015 production of Duke Ellington's Sophisticated Ladies, winning 9 awards.