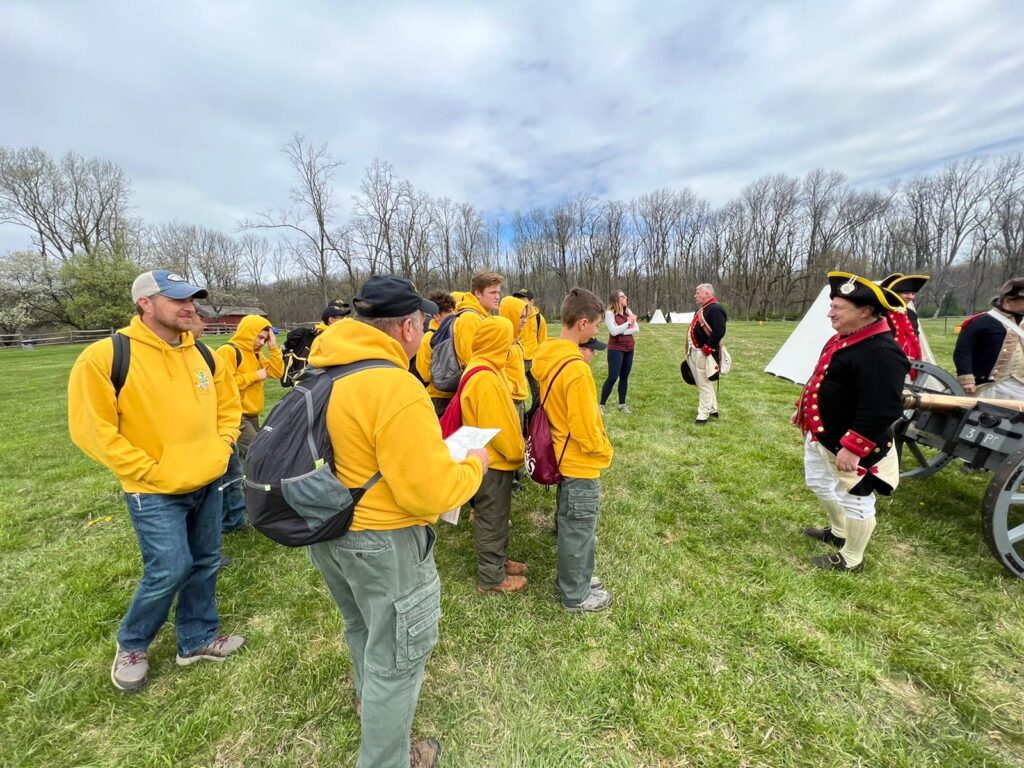 SCOUTS HIKE THROUGH JOCKEY HOLLOW
Dan Bernier, Scoutmaster
Boy Scout Troop 23, sponsored by St. Genevieve's Roman Catholic Church in Elizabeth, recently visited the Jockey Hollow National Historical Park in Morristown to learn about the encampment of the Colonial army there through two crucial winters during the Revolutionary War.
The Scouts camped on April 22 to 24 in Lewis Morris County Park. From their campsite, they hiked into the national park and followed the Jockey Hollow Historical Trail. Along the trail, they visited the park's Visitor Center, the Wick Farm, the reconstructed soldier's huts and the Grand Parade field. As Scouts walked the 10-mile route, they had to find the answers to questions about people and events related to the winter encampments. After writing an essay about why General George Washington chose the Morristown area for his winter encampment in 1779-80, they qualified for a medal that they can wear on their uniforms.
Troop 23's visit to Jockey Hollow coincided with the park's largest annual event. Revolutionary war reenactors were on hand at the Wick Farm to demonstrate military drill and musket and cannon fire. The Scouts also got to speak to reenactors in the Wick Farm house, where the Wick family shared their house with Major General Arthur St. Clair, commander of 2,000 soldiers from Pennsylvania.
For more information about Boy Scout Troop 23, please contact Dan Bernier, Scoutmaster, at (908) 451-1948 or webfoottroop@gmail.com.