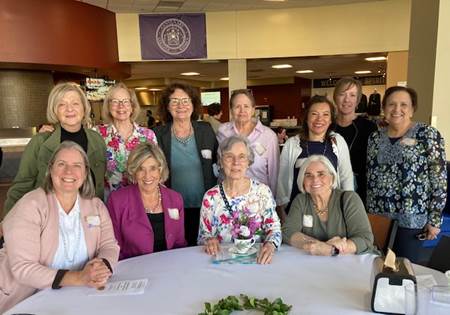 TMC Attends Federation Spring Conference
Eleven members of the Thursday Morning Club (TMC) recently attended the NJ State Federation of Women's Clubs (NJSFWC) Highlands District Spring Conference, held at Centenary University in Hackettstown, NJ. The Conference recognizes women's clubs in the Highlands District (primarily Morris County) for their service to people in their communities and support of the Special State Project, The Emmanuel Cancer Foundation, which assists families with children suffering with cancer.
At the conference, work in various categories, such as, Leadership, Special State Project, Environment, Communications, Domestic Violence Awareness, are recognized and judged. In addition, also judged are arts creative achievements, including paintings, photography, knitting, crocheting, counted cross stitch, baked items, and environmental items, such as floral arrangements. NJ Districts' award winners are judged at the state level with results announced at the NJSFWC convention in May in Atlantic City.
Presidents of local Women's Clubs spoke about the service projects each of their Clubs accomplished in the last year. The NJSFWC President, Shirley Holly, congratulated the Highlands District women's club for their amazing contributions and thanked the volunteers for all they do for their communities.
The Thursday Morning Club, a non-profit service and social organization, owns, operates, and maintains the Madison Community House and its Before and After School Child Care Program. Organized in 1896, the Club is a member of both the New Jersey State and General Federation of Women's Clubs. The Club offers programs and services to support the community, and its Community House provides a home for a number of sports, recreation, and civic groups. For information about the Thursday Morning Club or membership, call the Community House at 973-377-0244 or visit TMCMCH.org.