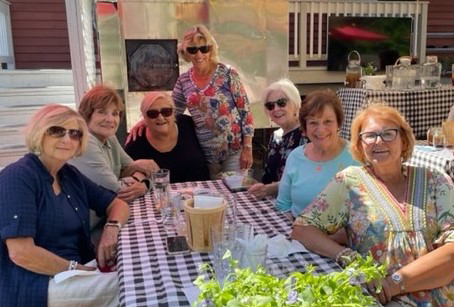 TMC's Welcome Back Luncheon
On a beautiful sunny September 15 afternoon, fifty-two Thursday Morning Club (TMC) members enjoyed getting together in the backyard of Daddy Matty's BBQ for their annual Welcome Back Luncheon to start the fall TMC club year. Besides lively conversation and enjoying good bbq, they discussed the upcoming programs and service projects.
Betty Landi, TMC President, noted the TMC support of EPOCH (Educational Programs of Children Handicapped), which now uses the Thursday Morning Club's Madison Community House for its after school programs and held its 50th anniversary celebration at the MCH on September 18. In addition, she mentioned the many activities planned to support the Emmanuel Cancer Foundation, which provides assistance to families with children suffering from cancer.
Jen Walters, LCSW, who is heading up The Support Network of Madison, a group which seeks to foster wellness and community connections, also spoke at the luncheon citing the partnership with the TMC on a number of community activities to bring all peoples of Madison, young and old, together.
Organized in 1896, the Thursday Morning Club (TMC) is a member of both the New Jersey State and General Federation of Women's Clubs. The Club offers programs and services to support the community, and its Madison Community House provides a home for a five-day Preschool and Before and After Child Care Program as well as a number of sports, recreation, and civic groups. If you would like to serve your community, make new friends, and enjoy programs and activities, consider joining the Thursday Morning Club. For information about the TMC or membership, call the Community House at 973-377-0244 or visit TMCMCH.org. 
Courtesy photo