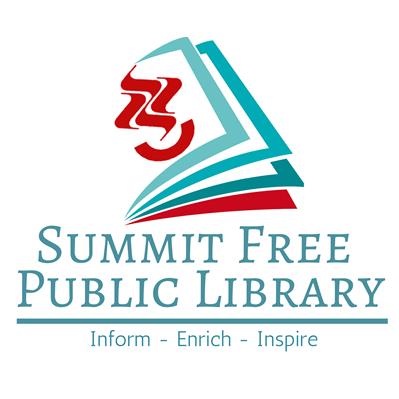 Summit Public Library April 2021 Programs
Join Michael Aaron Rockland, Professor Emeritus at Rutgers University on Friday, April 9 from 2-4 p.m. for a 6-week class on Jerseyana—and learn everything you never knew about our beloved Garden State! What do you know about your home state? This six-week course will offer a taste of everything New Jersey from the disputed state borders to the relentless Jersey joke. The term Jerseyana derives from "Americana" but with a focus on New Jersey and operates under the assumption that New Jersey has a culture all its own! 
Join Leena Kalle, Certified Senior Strength Training Instructor, on Monday, April 12 from 11-11:30 a.m. for Strength Training for Seniors, a 3-week series of 30-minute classes designed to help seniors increase muscle tone, flexibility, balance, strength, and endurance using easy-to-follow movements. The program will be live on Zoom. 
On Tuesday, April 13 from 7-8 p.m., Dr. Eric Bordenkircher will present The Future of Persian Gulf Security. The Biden administration is seeking to re-enter the Iran nuclear deal and reset relations with Persian Gulf countries. These policies are a sharp contrast from the policies of the Trump administration. Do these policy adjustments serve U.S. interests? Do they serve the interests of U.S. regional allies? What does a Biden presidency hope to accomplish in the strategically critical area Persian Gulf? Dr. Bordenkircher will discuss the Biden administration's policies in detail, the challenges of implementing these policies, relations with regional allies, and their ramifications on the future of Persian Gulf Security.
Librarian Debbie Abrams returns on Thursday, April 15 from 11-12 p.m. for her next Book Talk with Debbie. With so many new books, find out what is hot, what to skip, and, if you would like, share what you are reading and let the group know if it is a thumbs-up or a thumbs-down! 
On Monday, April 19 from 7-8 p.m., attend Plan Your Backyard Garden with gardening expert Tony Bracco and learn how to site your garden, prepare your soil (including fertilizing and watering), best crops to grow—including vegetables, herbs, annuals and perennials, tools to use and where to find them, seed sources, and how to extend the growing season.
On Tuesday, April 20 from 7-8 p.m., Brian Cody will present on Investing for Women: Why and How to Get Started. Brian will present on behalf of the Society for Financial Awareness, a nonprofit organization whose mission is to educate and empower citizens to help design their financial future. Brian specializes in all phases of financial planning with an emphasis on retirement planning for small businesses and individuals.
On Wednesday, April 21 from 11 a.m. – 12 p.m., crafting enthusiast Marge Barkan returns to show you how to make a 6-pocket Treat and Teabag Holder. This will be a Facebook Premier video. The first twelve people who sign up will receive supply kits. These can be given as Mother's Day or teacher's gifts. 
On Wednesday, April 21 from 7-9 p.m., join Jack Horan as he moderates our next Great Decisions series class on Persian Gulf Security Issues. The Persian Gulf remains tense as the rivalry between the regional powers of Saudi Arabia and Iran continues. Tensions escalated in early 2020 as the United States began to intervene in the Gulf, launching an airstrike that killed two Iranian military commanders. What are the historical influences that have led to these tensions? 
On Thursday, April 22 from 7-8 p.m., Jen Milnes will present Mental Fitness for Entrepreneurs & Small Businesspeople: Build a Mindset Ready for the Constant Change in Today's World. Drawn from the work of Shirzad Chamine's Positive Intelligence (PQ) Mental Fitness program, you will learn about the framework used to strengthen your mental muscles for: quicker recovery from negative situations, improved responses to unexpected challenges, better relationships both personally and professionally, increased productivity and enhanced performance, ability to handle conflicts in ways that deepen trust and harmony, and greater bandwidth to avoid burnout from a career you absolutely love.
On Monday, April 26 from 7-8:30 p.m., Dr. Doug Tallamy will present Nature's Best Hope. Recent headlines about global insect declines and three billion fewer birds in North America are a bleak reality check about how ineffective our current landscape designs have been at sustaining the plants and animals that sustain us. Such losses are not an option if we wish to continue our current standard of living on Planet Earth. The good news is that none of this is inevitable. Dr. Tallamy will discuss simple steps that each of us can- and must- take to reverse declining biodiversity and will explain why we, ourselves, are nature's best hope. The talk will be followed by a Q&A session. This program is co-sponsored by Summit Environmental Commission, the Summit Area GreenFaith Circle, and the Summit Free Public Library.
Join Andrea Samacicia Mullan on Tuesday, April 27 from 7-8 p.m. for Do It Yourself Public Relations. This workshop will teach you the basics of P.R. so you can implement it yourself, learn how to craft a persuasive pitch, and know which social media platforms are best for you and your business. Ideal for entrepreneurs and small business owners. Andrea is a Summit resident and owner of her own public relations firm.
On Thursday, April 29 from 7-8 p.m., Dr. Courtney Zoffness, who leads the Creative Writing program at Drew University will lead a discussion of her new book, Spilt Milk. In her literary debut, Courtney considers what we inherit from generations past―biologically, culturally, spiritually―and what we pass on to our children. Courtney relives her childhood anxiety disorder as she witnesses it manifest in her firstborn; endures brazen sexual advances by a student in her class; grapples with the implications of her young son's cop obsession; and challenges her Jewish faith.
To register for any of the Summit Free Public Library's programs, visit the Events tab at the top of our website, summitlibrary.org or call the library at 908-273-0350, option 3. Library phone lines are open from 9 a.m. – 9 p.m., Mondays-Thursdays, and 9 a.m. – 5 p.m. on Friday and Saturday.