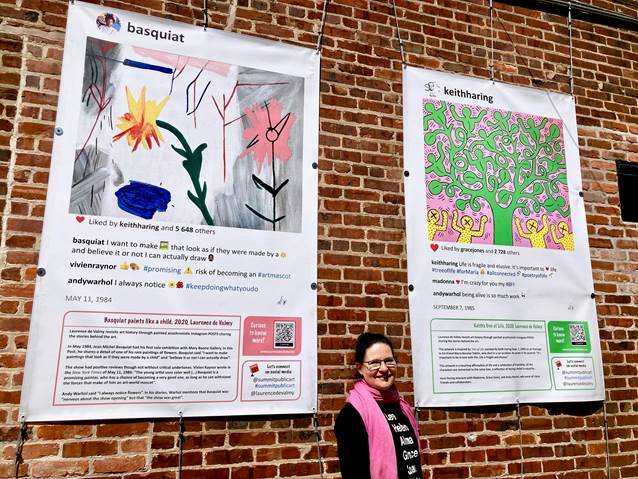 A Message of Hope and Resilience
Summit Public Art
In 2021, public art has become more relevant than ever. A great example of one initiative to dynamize a city downtown after a year of pandemic is the one led by Summit Public Art.
For nearly twenty years, Summit Public Art (SPA) has infused Summit's downtown with contemporary art installations that provide public art experiences. Since 2002, the volunteer-based city organization has installed over 80 pieces of temporary art created by nationally and internationally acclaimed artists.
For the launch of its 2021-22 season, SPA has invited artist Laurence de Valmy (she/her), to create a mural art installation in the heart of Summit at the historic MONDO building, a space dedicated to the arts.
The installation presents three interactive artworks from de Valmy's POST series, which revisits art history through anachronistic Instagram posts. The works, displayed on large banners, will share the stories behind three works by the artists Lee Krasner, Keith Haring and Jean Michel Basquiat.

De Valmy's work captures the trend of our times and connects it to art history.
Launched in 2010, Instagram is now the favorite platform for sharing art. But what if Instagram had always existed?
De Valmy intermingles her knowledge of art history along with her painting dexterities to share the stories behind iconic artworks. All of her pieces, depicted as Instagram posts from a time gone by, combine an original painting and a dialogue that is historically precise yet humorous. "I love art history but above all I'm fascinated by personal stories and relationships: how artists were connected with other artists, art dealers, writers, their lovers, etc. What made them create their work? Or for whom did they do it? That's what my series is about," says de Valmy.
An interactive installation
Each mural has its own QR code to encourage interaction with viewers and provide more stories and information such as videos of the artist in the studio. "Laurence's work is aesthetically appealing but also educational and fun at the same time. We hope that it will trigger people's curiosity and allow them to experience art in a unique way," says Brian Carpenter, Communications Chair for SPA.
Some will argue that our phones and social media can make us feel disconnected with real life. But De Valmy points to her own positive experiences with social media: "I have met so many friends thanks to that and was spotted by art dealers on Instagram. It's been a game changer for me. It will be great to connect with viewers who share their experience in Summit!"
Three artworks to represent resilience, hope, and inclusion
Created during the pandemic, de Valmy's POSTs were inspired by the stories of Krasner, Haring and Basquiat who all faced different challenges during their lifetime. Each artwork carries a message of resilience, hope and inclusion.
"Krasner as a woman had to make her way in a male-dominated art scene and break free from the shadow of her famous husband, Jackson Pollock," says de Valmy. Lee's Sun Woman by de Valmy is part of a collaboration with Art Girl Rising and Kahn Gallery to develop awareness about women artists.
"Keith Haring was snubbed by the art institutions, at least for a while, since he was labeled as a commercial artist and he was also a victim of AIDS. Despite these challenges, he was his whole life a strong advocate for art democratization, equality, tolerance, and love of life, which is very inspiring to me," says de Valmy.
Although Jean Michel Basquiat quickly rose to fame, he resented the racism he often faced along the way. The piece chosen by de Valmy is one of the rare flower paintings created by Basquiat, possibly as a tribute to the famous flowers of his friend Andy Warhol.
About Summit Public Art
Summit Public Art is a volunteer-based city organization whose mission is to bring art to public spaces throughout Summit, NJ. Although it is a city entity, SPA receives no funding from the city. It raises money through individual donations, public and private grants and corporate sponsorships.
SPA was founded in 2002 as the Mayor's Partnership for Public Art. Its mission is to enhance the cityscape, infusing it with assorted contemporary art installations that provide public art experiences to those who live, work in, or visit Summit.
Over the past fourteen years SPA has installed over 80 pieces of temporary art throughout the community, The artists represented include many of national and international renown. The committee has also sponsored and facilitated two permanent installations on Broad Street: three bus shelters and the Gateway Tree sculpture welcoming people to town. Visit summitpublicart.com