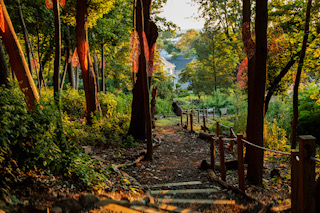 Summit Park Line Grant
Submitted by Amy Cairns
The Summit Park Line Foundation was recently awarded a $30,000 unsolicited grant from the national Rail Trail Conservancy organization to help fund the construction of the linear park and placement of a pedestrian bridge linking two sections of the Park Line over Morris Avenue.
In a statement about the grant, Tom Sexton, the Northeast Region Director of the Rails-to-Trails Conservancy said: "Through this grant, Rails-to-Trails Conservancy applauds and supports the visionary work of the Summit Park Line Foundation and the Summit Common Council to bring a dormant section of the historic Rahway Valley Railroad (RVRR) back into productive use. This public-private partnership is an example of local creativity and dedication that can be replicated in many other locations in the state."
This grant comes through RTC's Trail Grants Program, which emphasizes strategic investments in support of significant regional and community trail development goals. Many of these grants support projects that are small in scope and scale and can be hard to finance within traditional funding streams, but essential to building and maintaining trails. Through the Trail Grants Program, RTC is able to help complete and connect trails, improve the trail user experience and support local organizations dedicated to new and existing trails across the country.
Founded in 2015 by former Summit Councilmember Dr. Robert Rubino, the initiative establishes the first new park in Summit in 85 years. The former Rahway Valley rail line land was obtained from the State of New Jersey to be converted into a linear park. The goal of the park is to connect downtown Summit to neighborhoods throughout East Summit and to the county parks on the perimeter of town. Additionally, the path passes near Overlook Medical Center the Summit Family Aquatic Center, Jefferson Elementary School and the Summit Community Center. The Park Line will also serve as a pedestrian and bike path to create safer, off-street transportation routes, as well as green space.
"As an elected official at the time, I thought it was important to use the power of city government to obtain the land but to avoid using taxpayer dollars to finance it," states Rubino. "We have been able to get this far solely through private funding from individual citizens, not-for-profits and corporations."
Rubino continues: "We are doing great work, connecting neighbors and neighborhoods, and creating access to new green spaces. We are very grateful for the recognition from the Rail-to-Trails Conservancy. When a national organization of this stature recognizes our work as meaningful, it boosts the morale of our volunteers and board members and helps with additional funds for the project. The entire city has embraced the project, and unanimous approval from Common Council this month underscores that support."
For more information on the Summit Park Line project, go to summitparkline.org. 
Photos by Summit Park Line Foundation